How to make a Pimento Cheese Sandwich
The Masters might be delayed but that doesn't mean you can't kick back, make your a pimento cheese, grab a beer and watch The Masters re-runs. We've got you covered on how to make the Masters famous Pimento Cheese.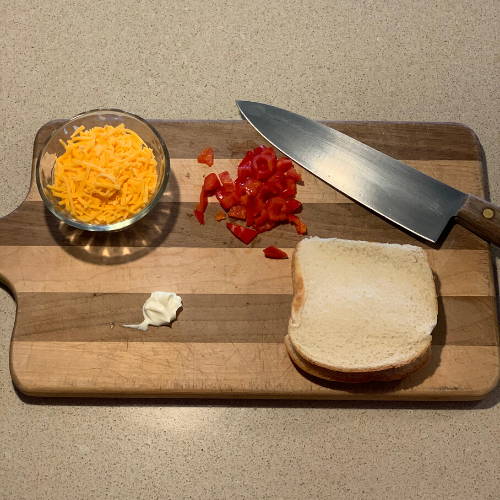 The Famous Pimento Cheese Sandwich
Ingredients
-     White bread
-     Pimentos, jarred or diced
-     Mayonnaise
-     Ground black pepper
-     Ground red pepper
-     Mild cheddar cheese shredded
-     White cheddar cheese shredded
-     Blue Cheese and parmesan (optional)
-     Dijon Mustard (optional)
Step by Step
-     Drain or dice pimentos
-     Mix cheeses, pimentos, mayonnaise, Dijon mustard black and red pepper.
-     Spread on slice of white bread, top with the other and cut to serve.
-     Kick your feet up, think about the Masters and enjoy!
‍
Growing up we loved spending our Summers going 'Up North" on unforgettable golf adventures ... Something about Northern Michigan's pure & serene beauty and seemingly endless array of great tracks to play, stole our hearts from a young age. So, we sought to embody our Up North roots and pay ode to the beautiful North Coast that we've been lucky enough to call home most Summers.

North Coast was born from a vision over two years ago. It was during an Up North golf trip to Northern Michigan. We all had different gloves on and not one of them stood out to us. They were bland, boring, half-ripped and frankly, didn't fit our style.  Not only that, but we all seemed to agree that we didn't love the way our gloves felt on our hand. We wanted to look and feel good on the course from head to toe and we knew we weren't the only ones. So, we set out to create our own gloves from the ground up with a simple mission: create high-quality and stylish golf gloves that are beyond comfortable to wear and feel silky smooth on any hand. Two years later, we've finally arrived and we're stoked to release our gloves to all of you. Now grab your sticks & Go Play Golf.
---