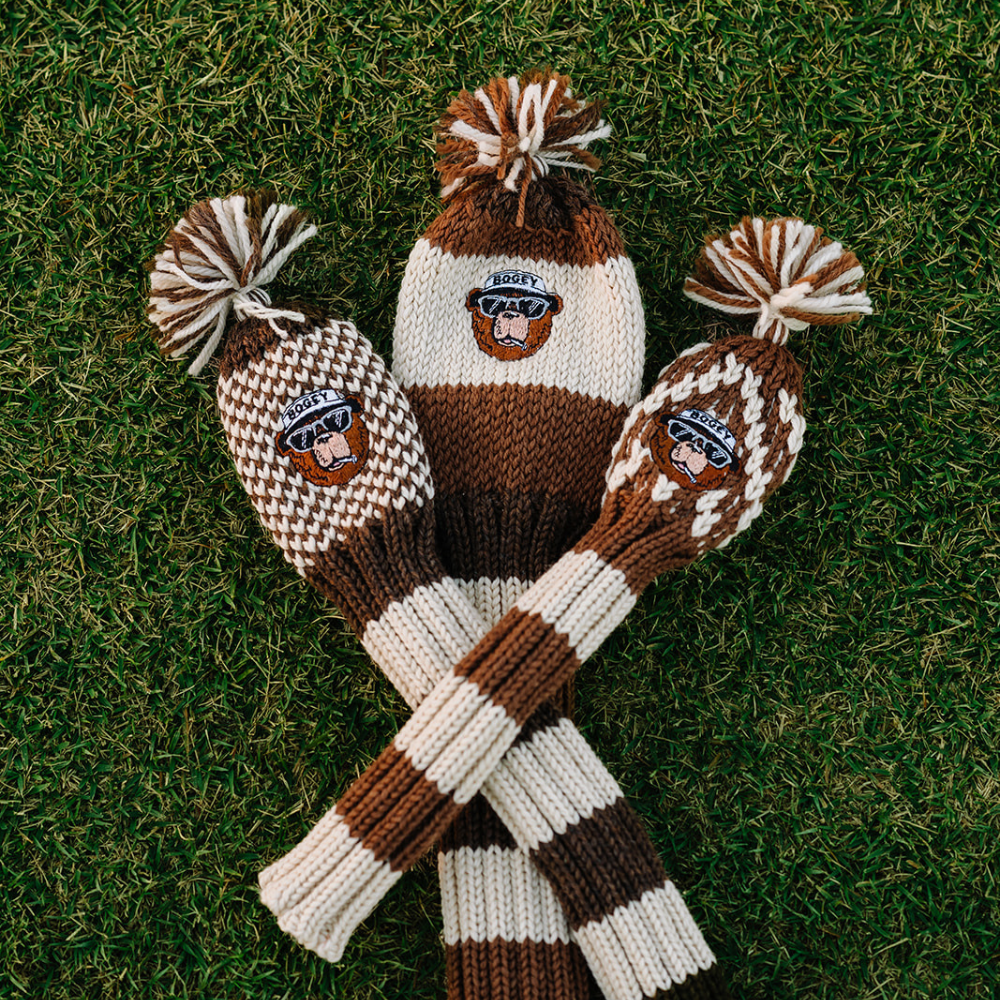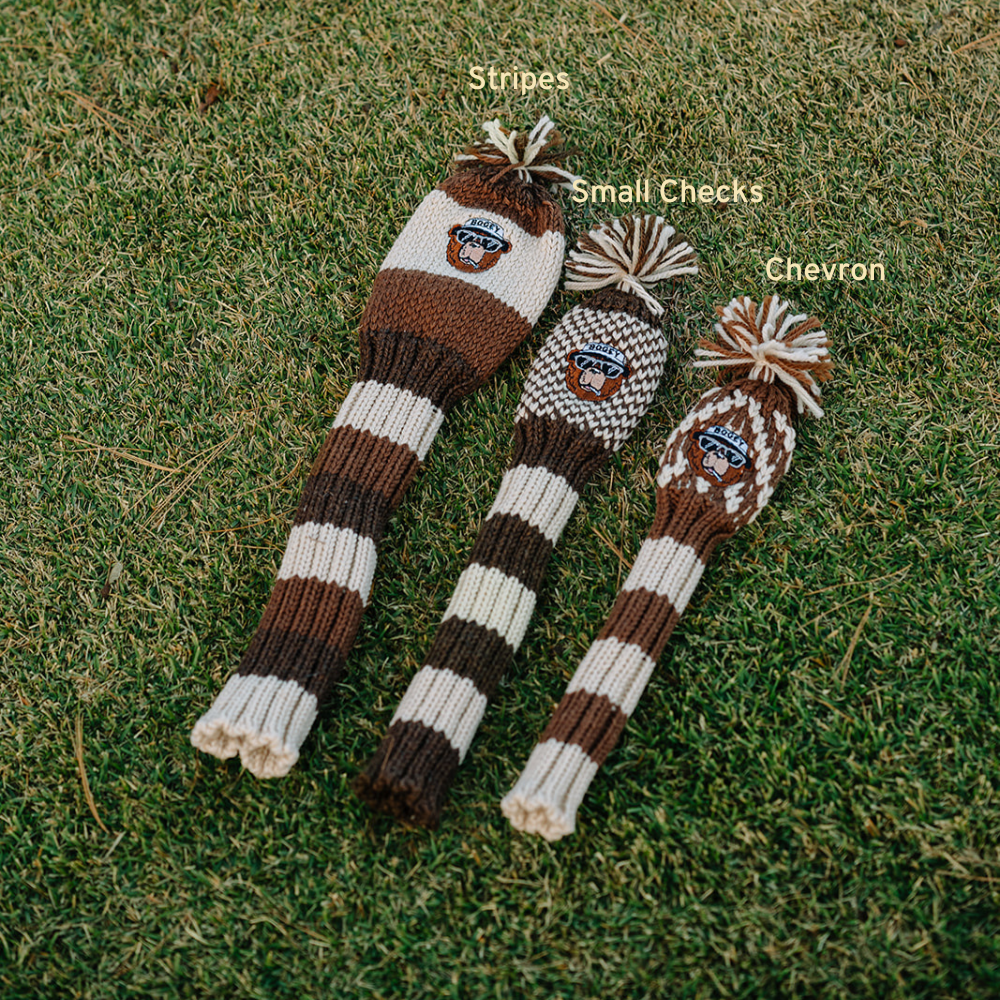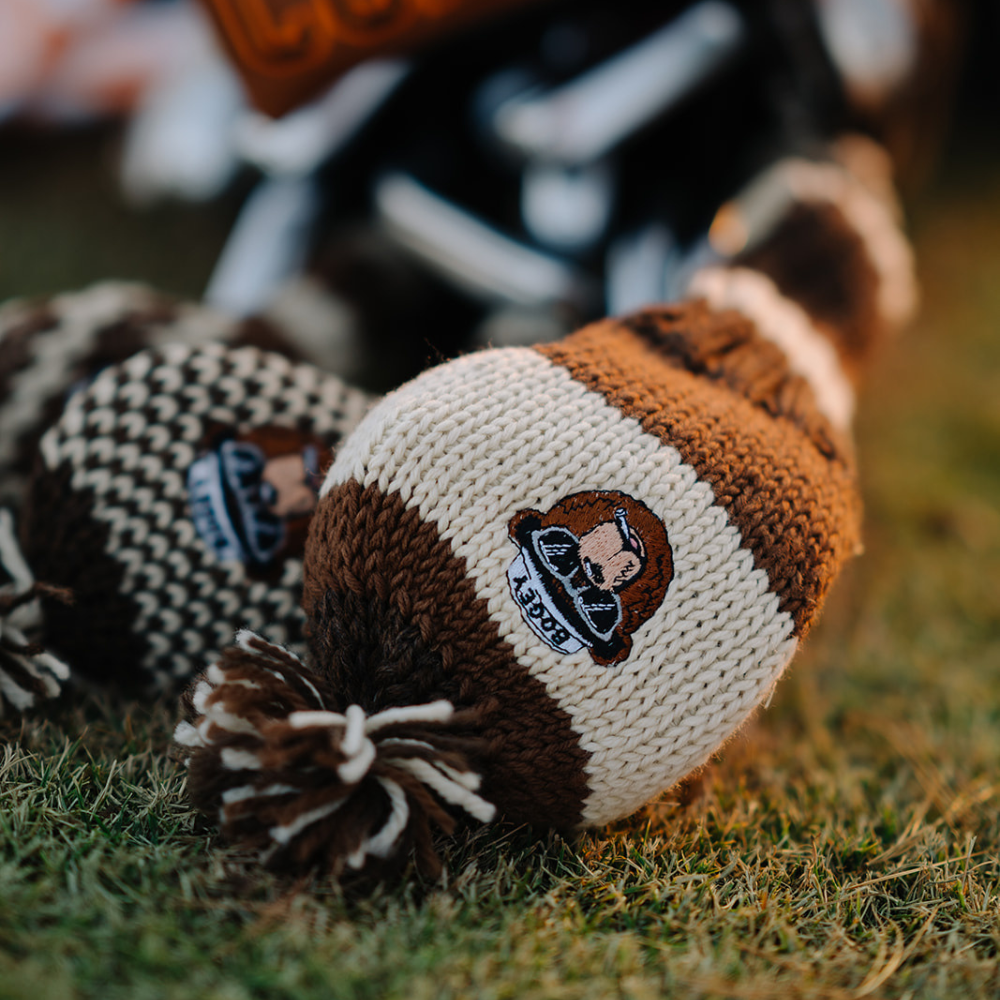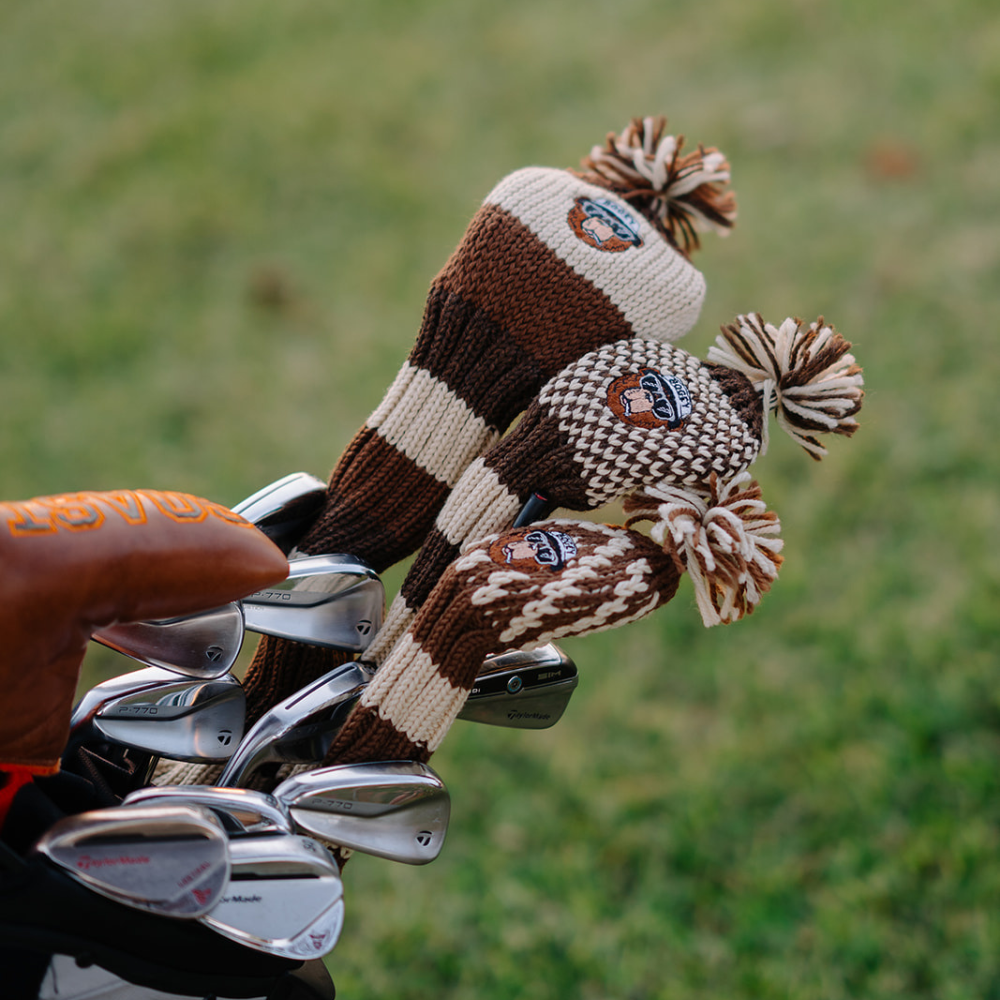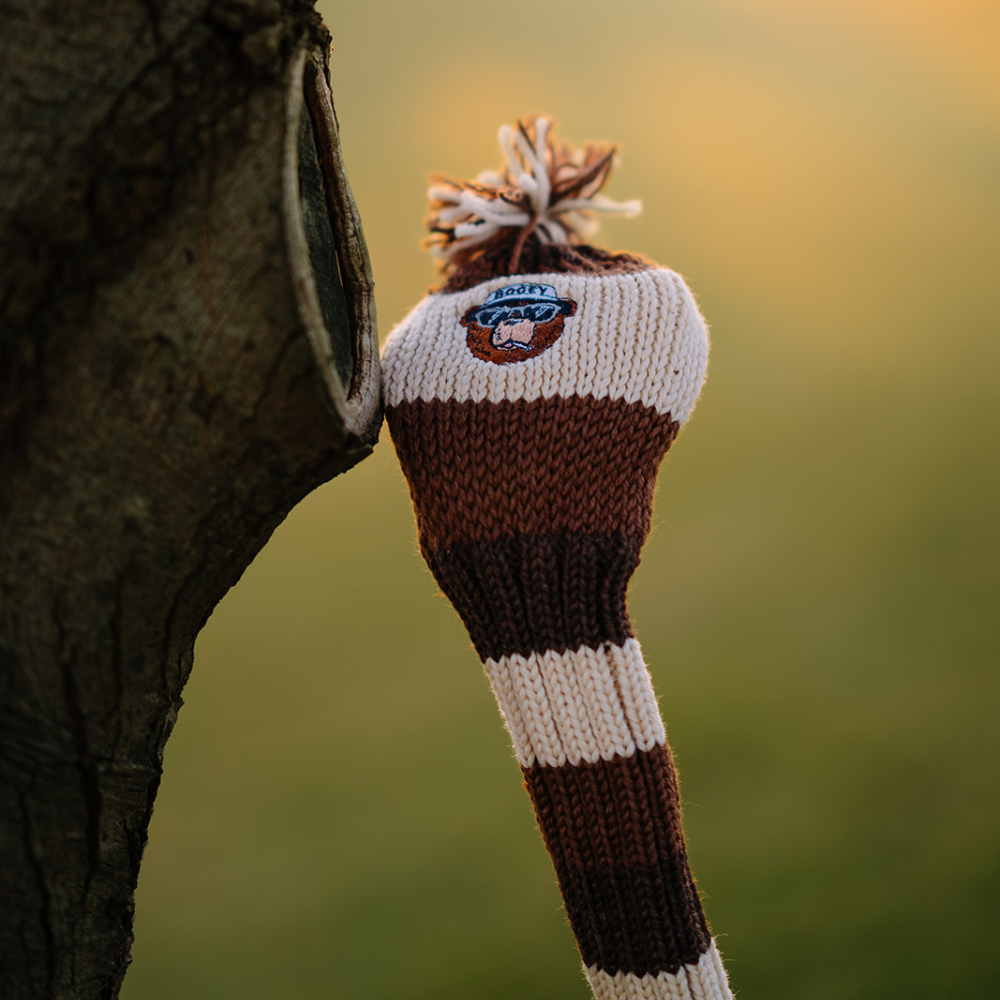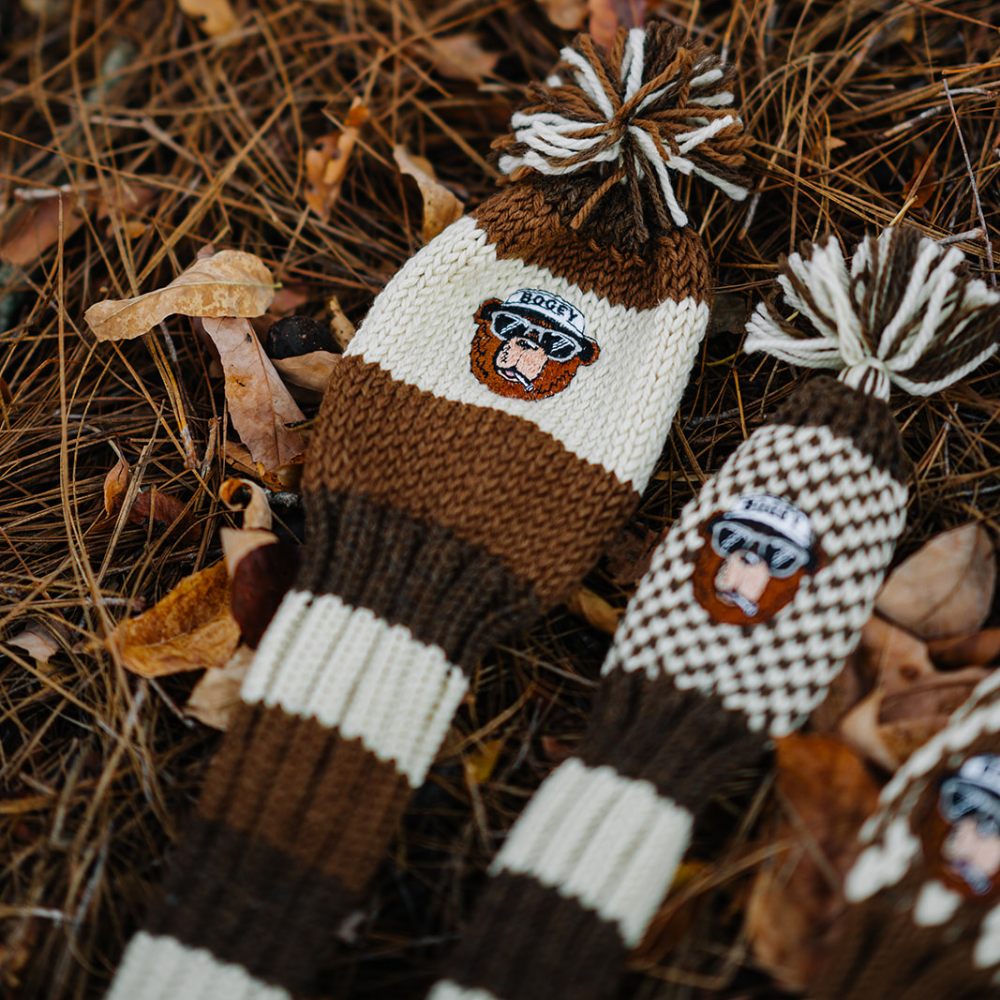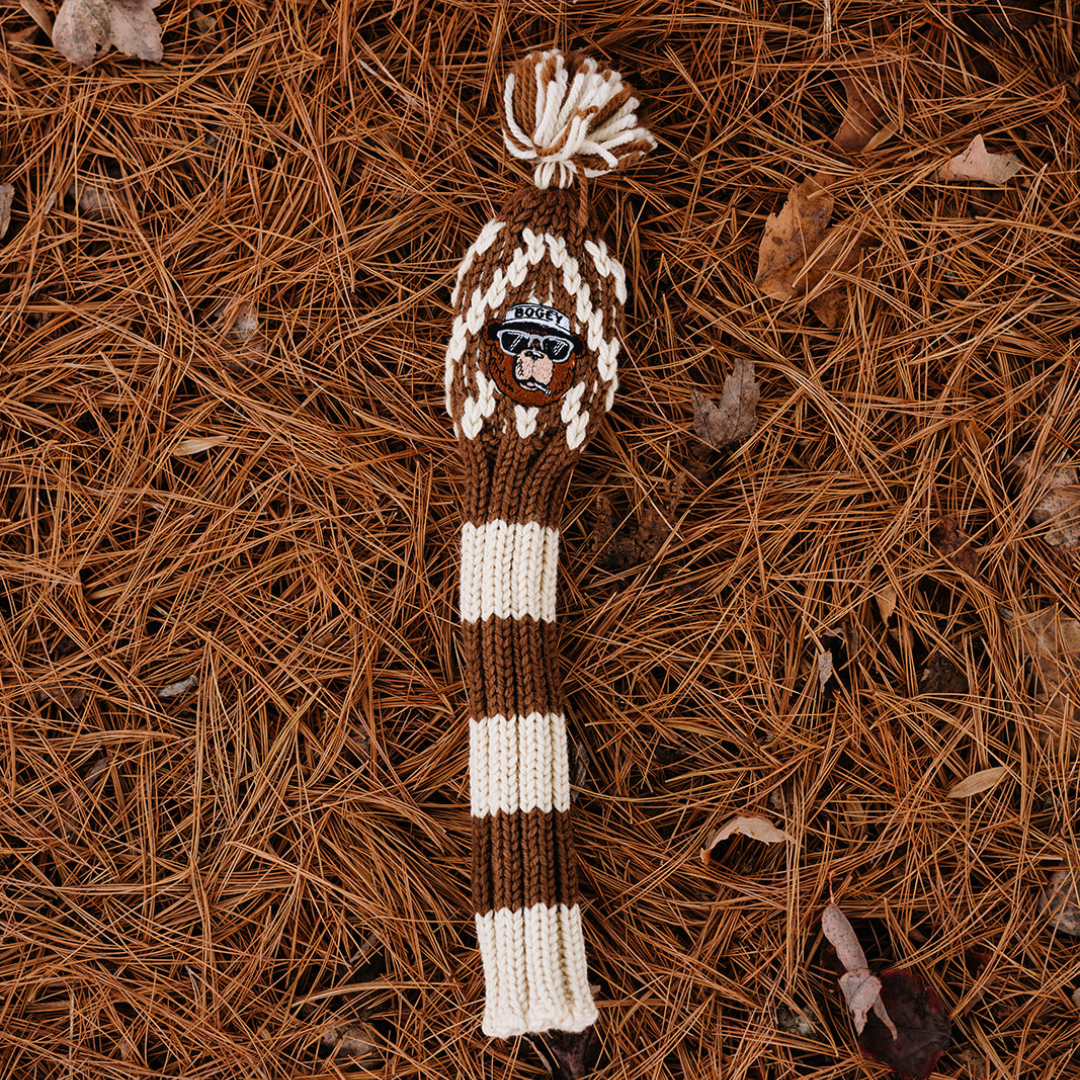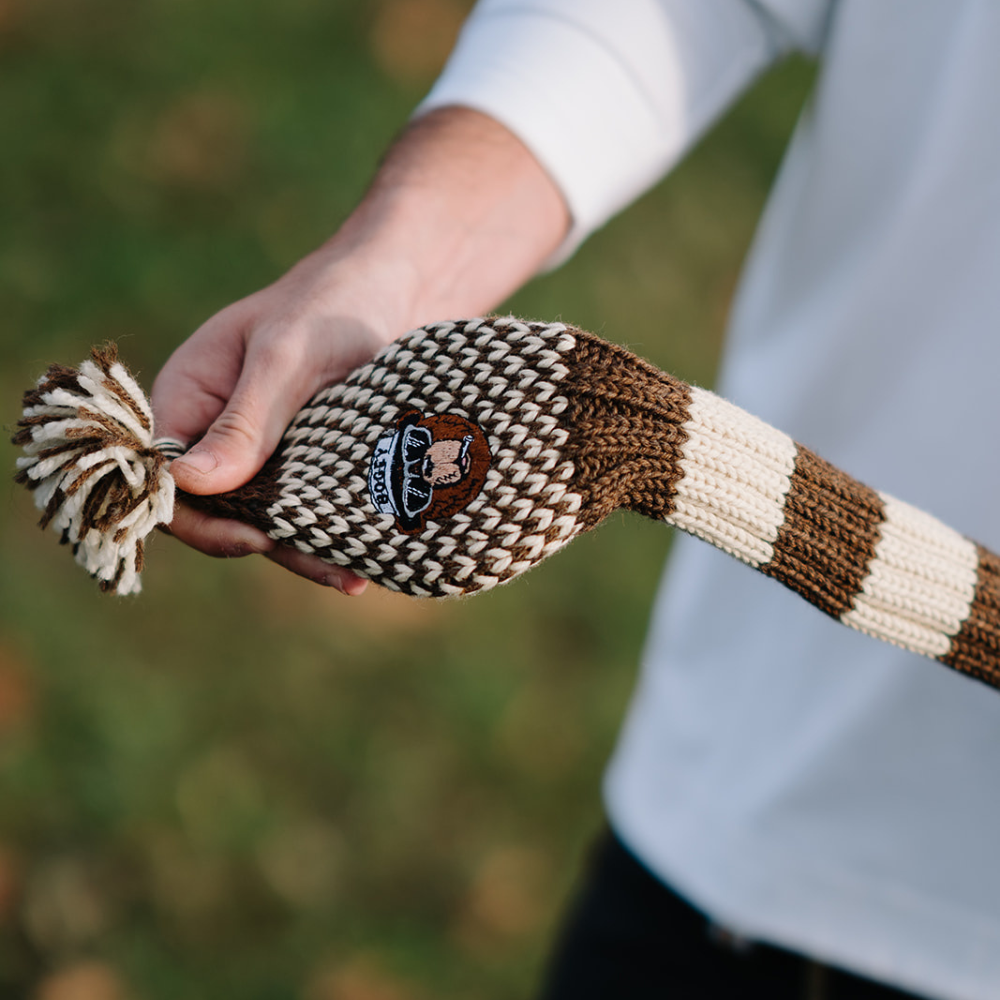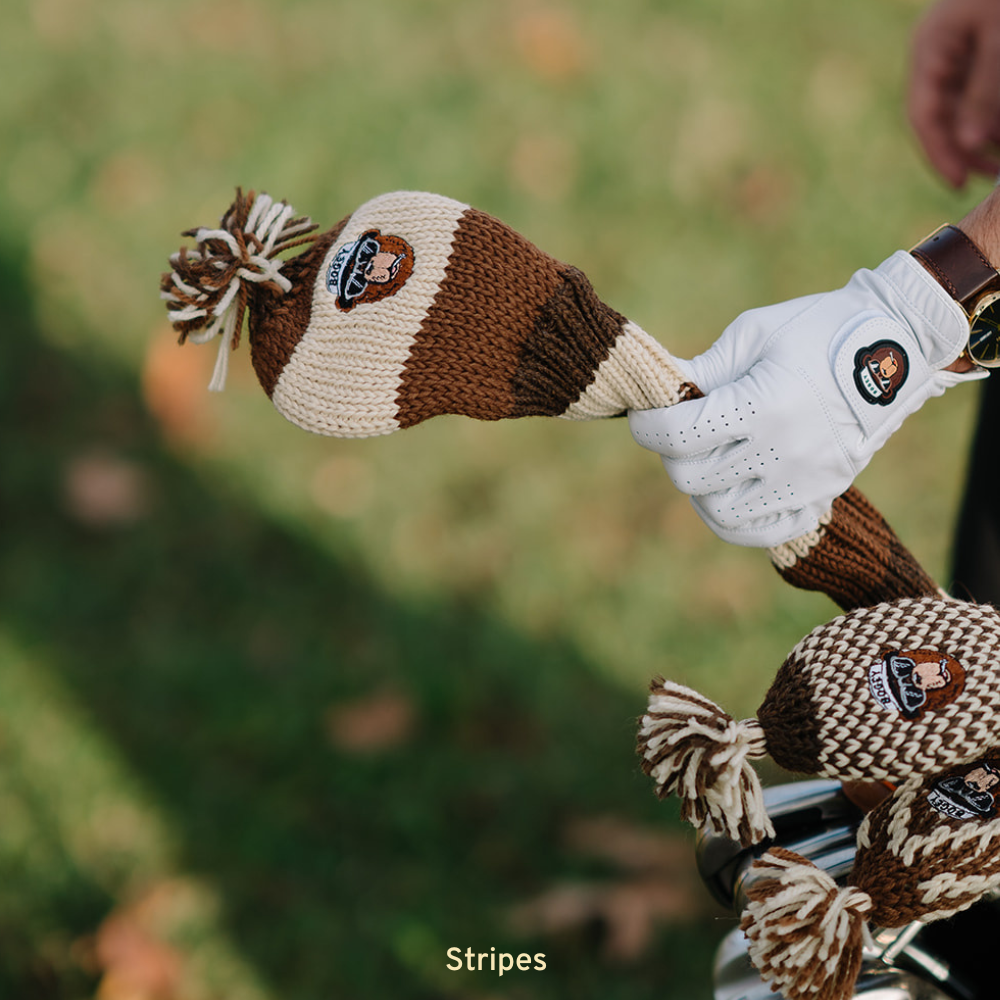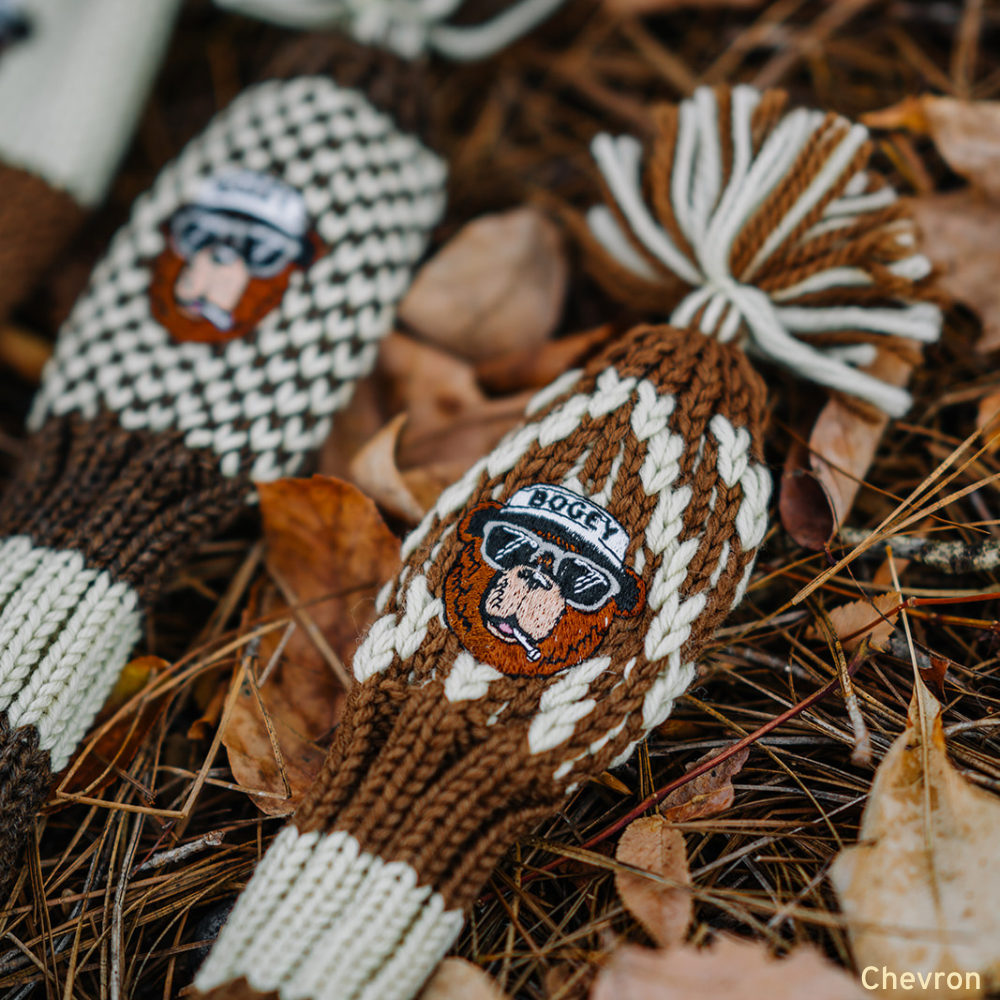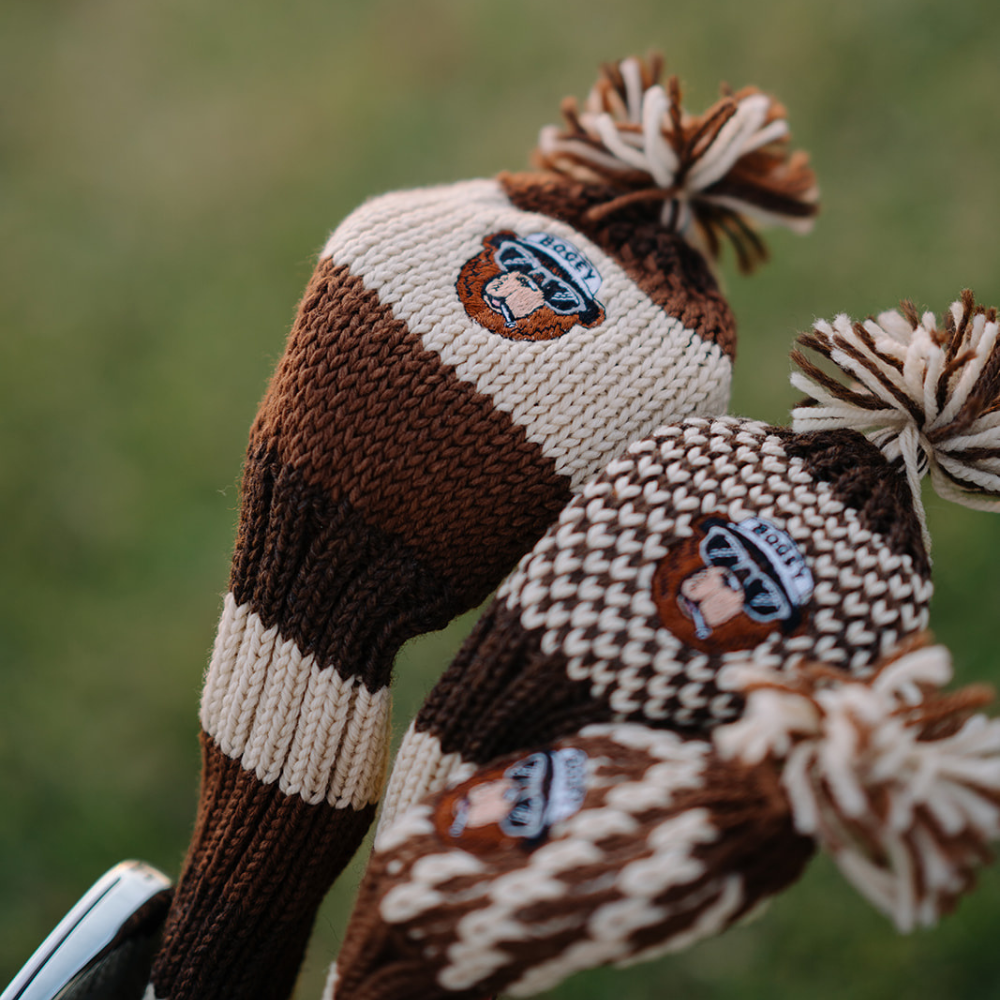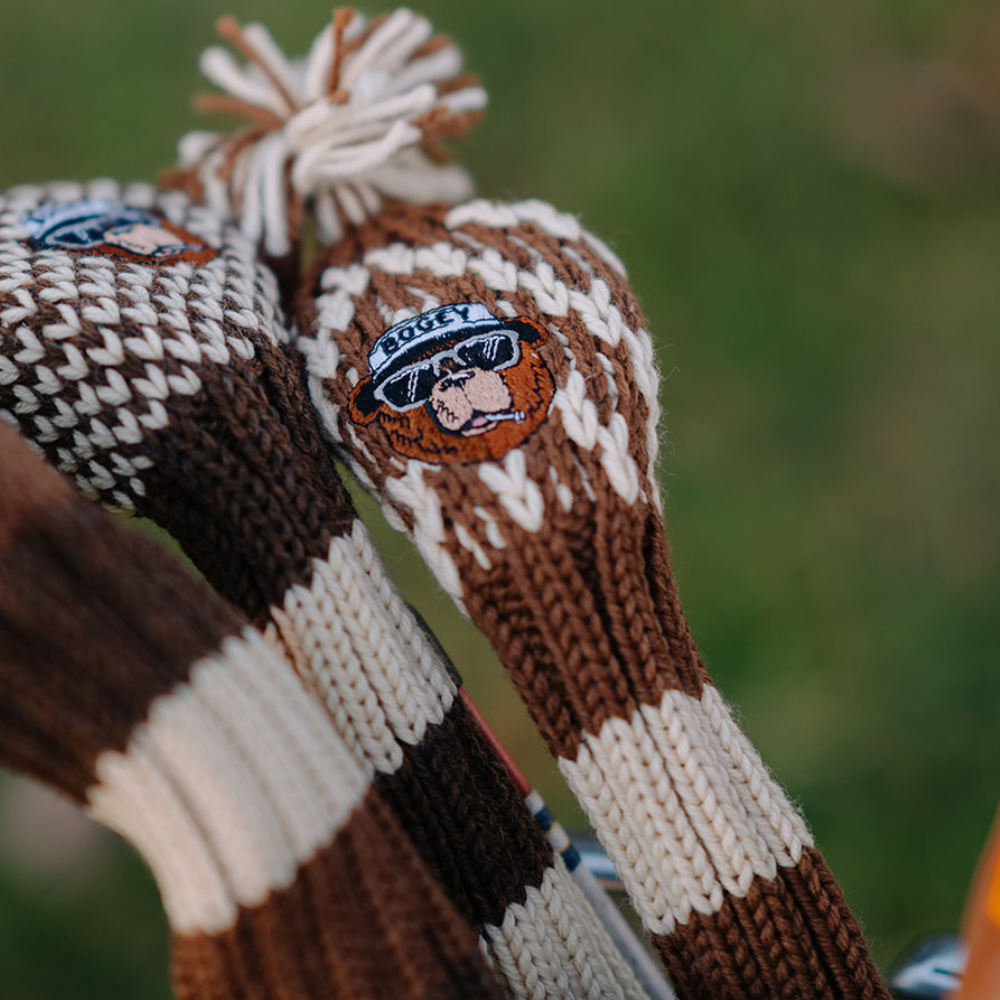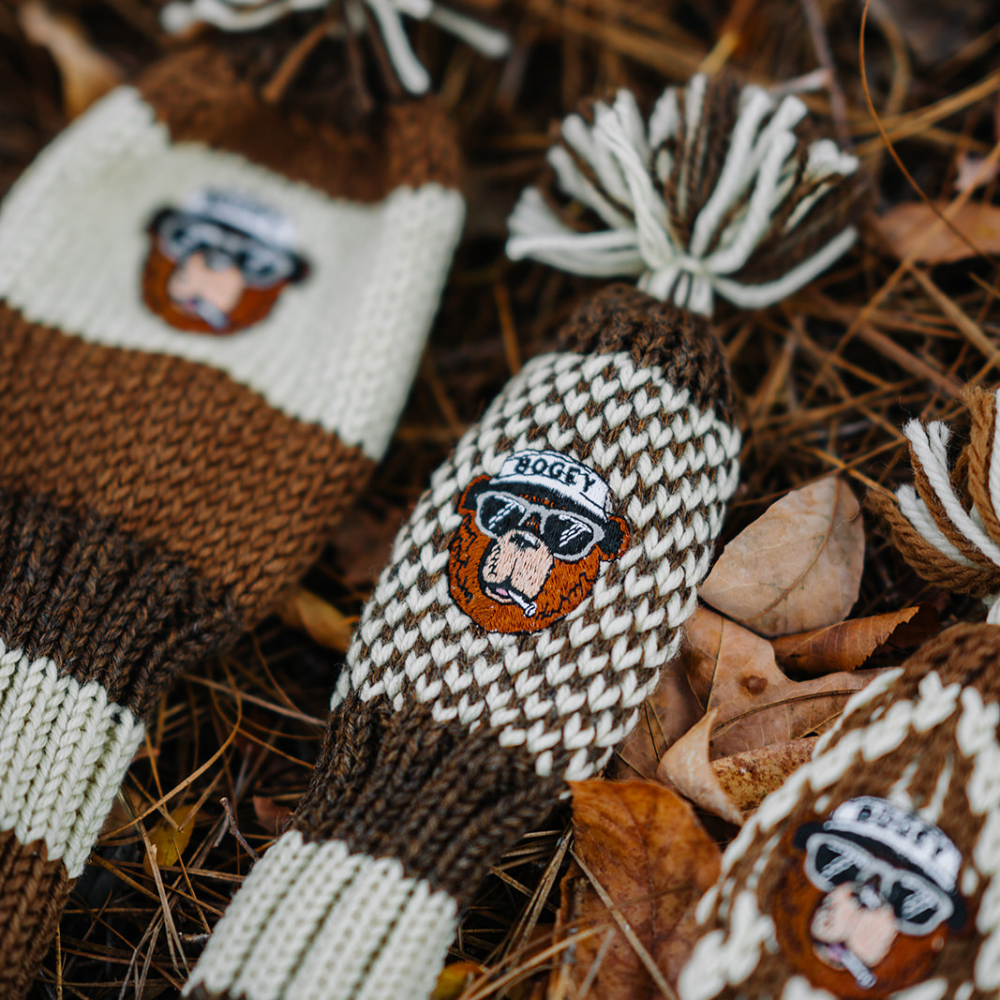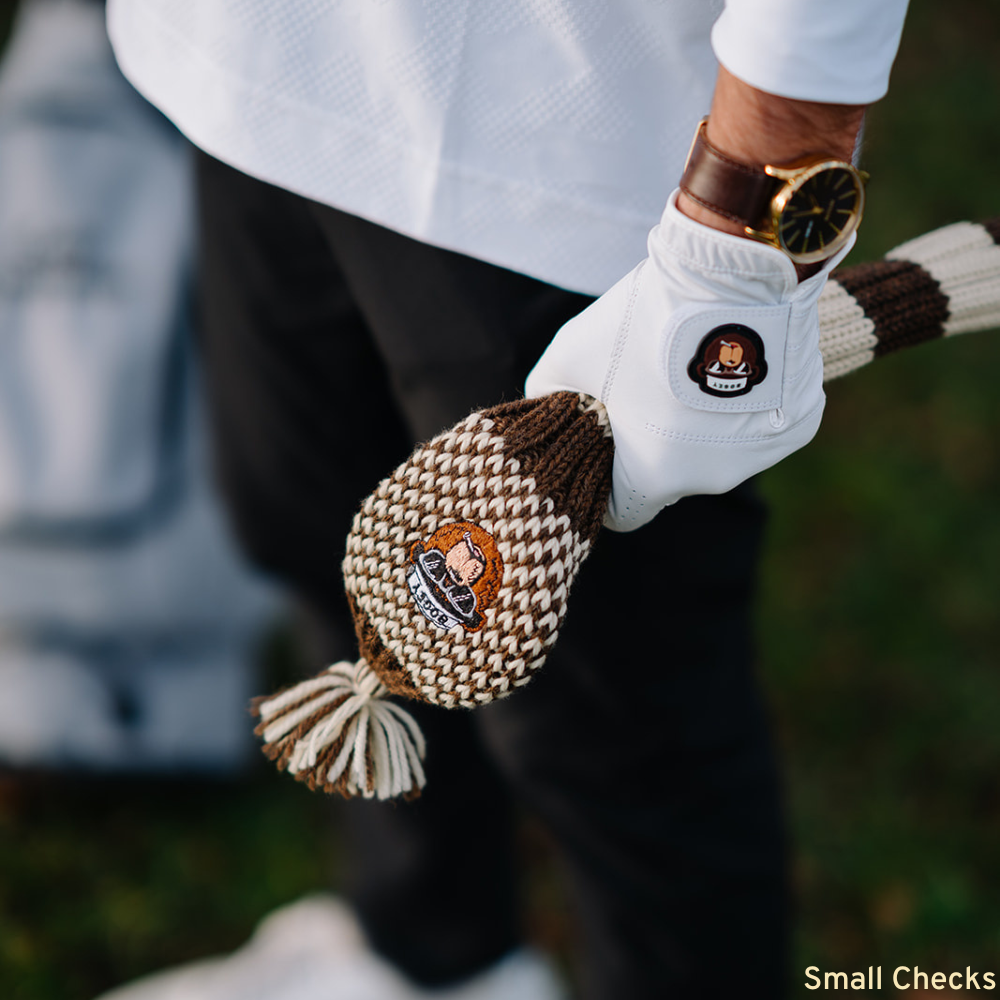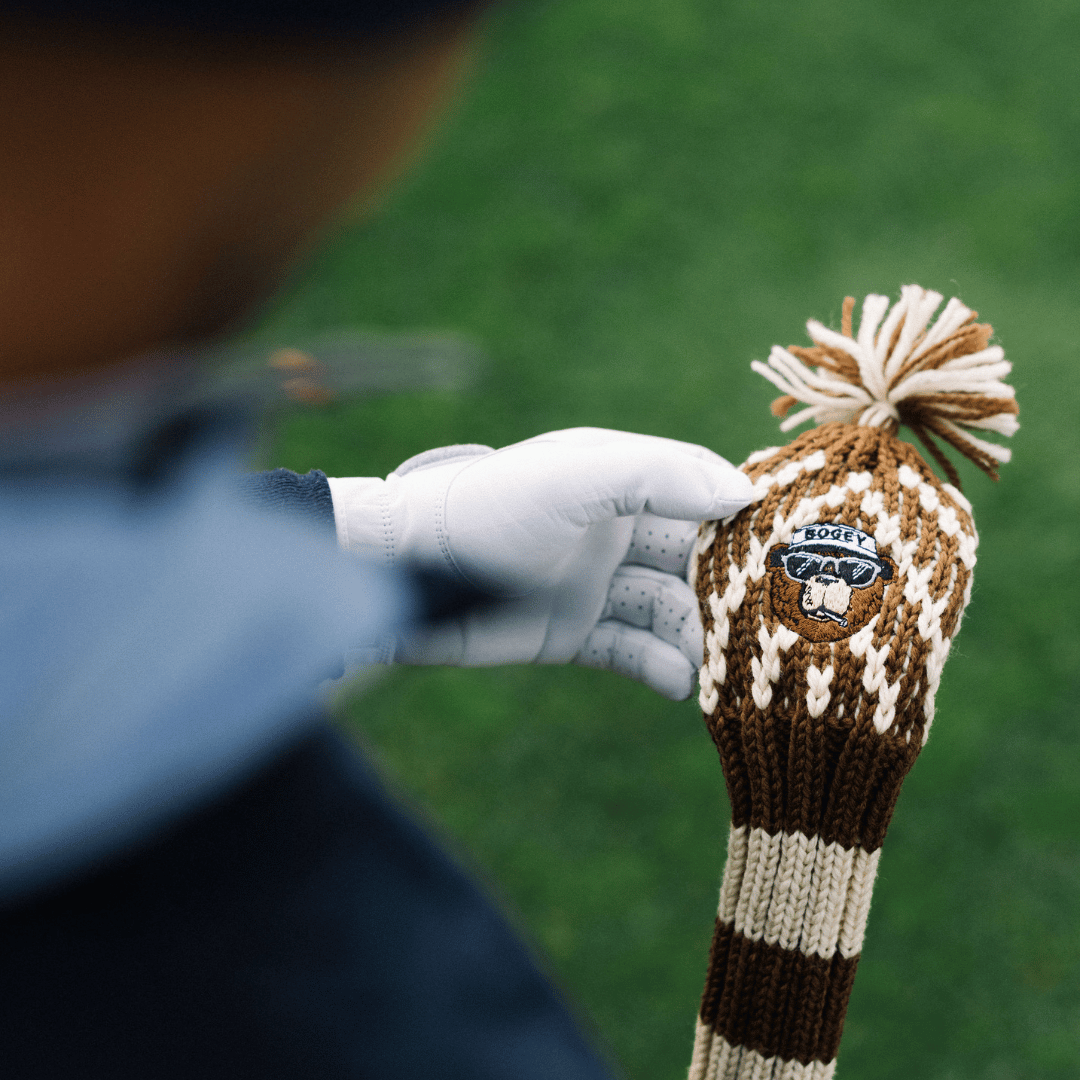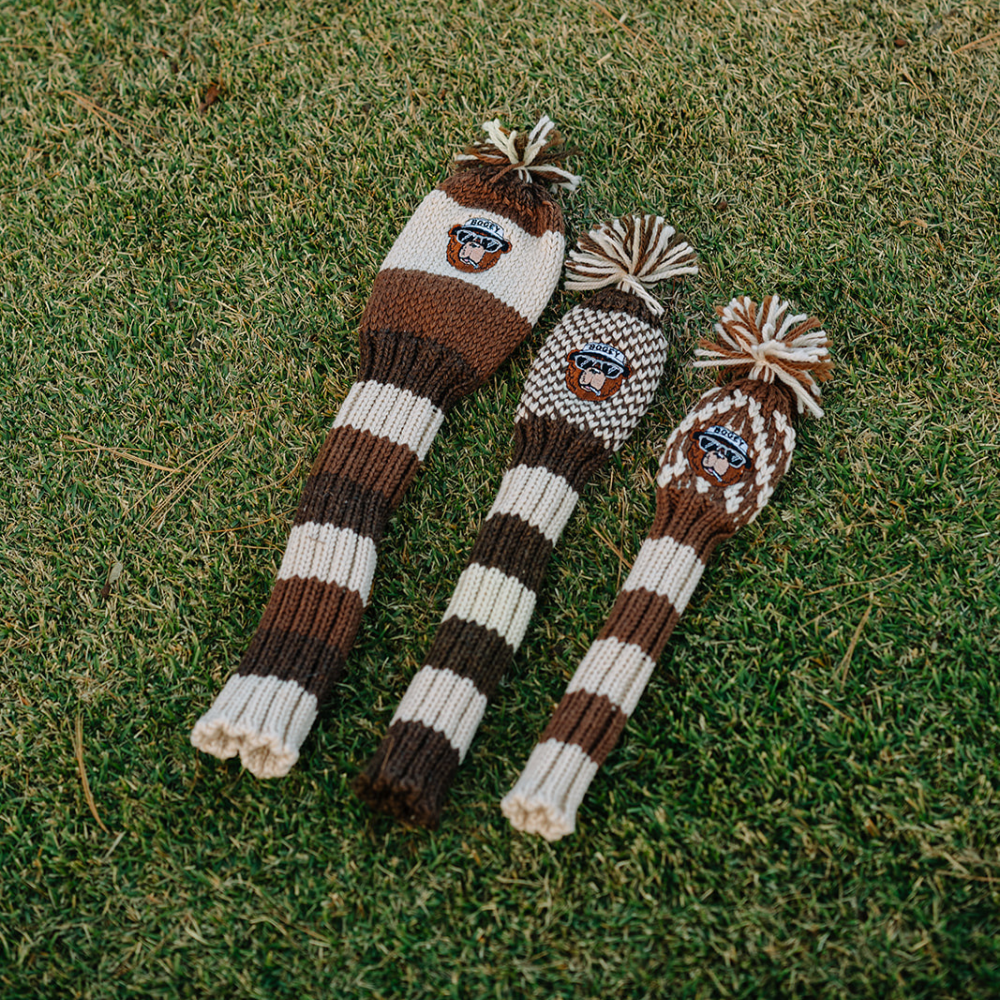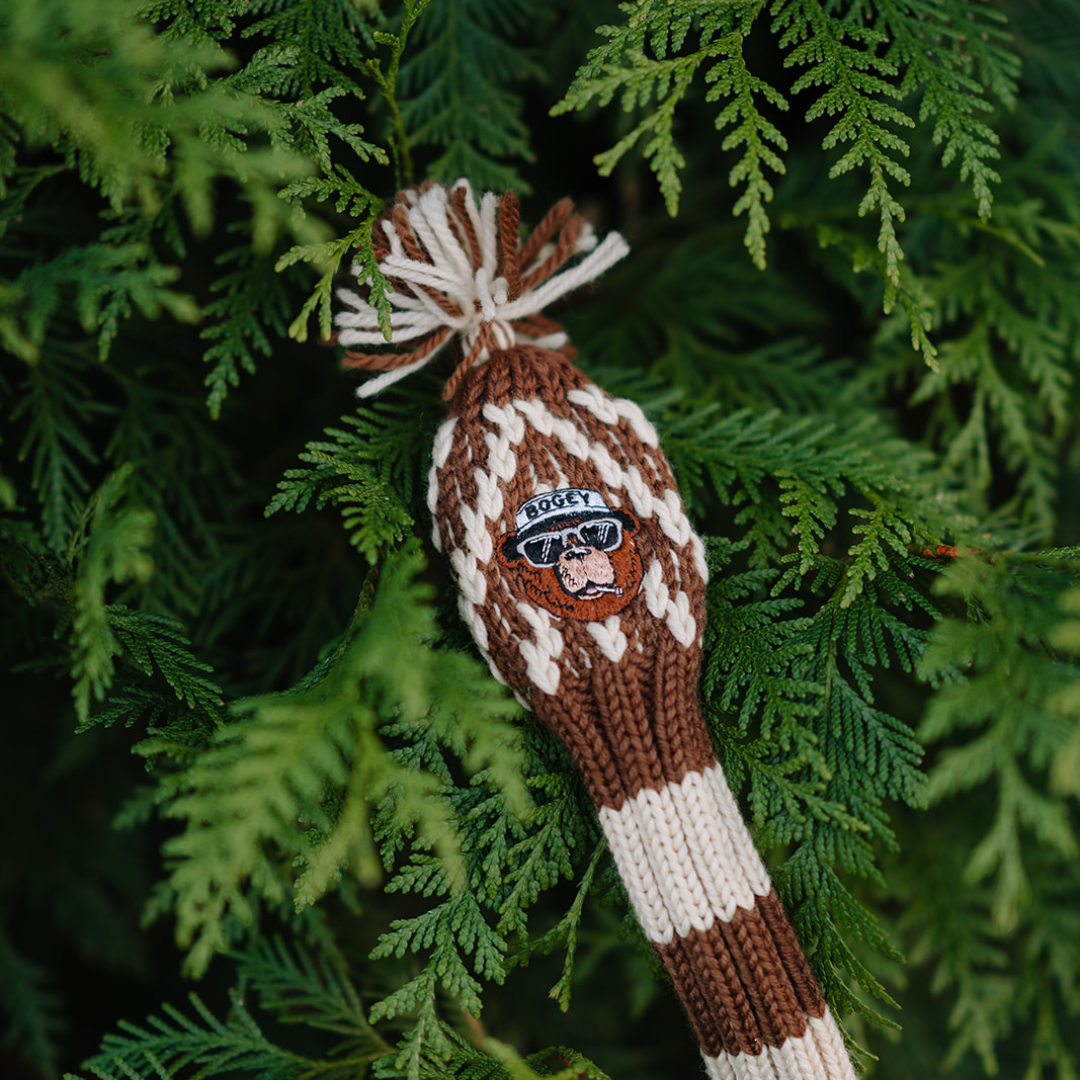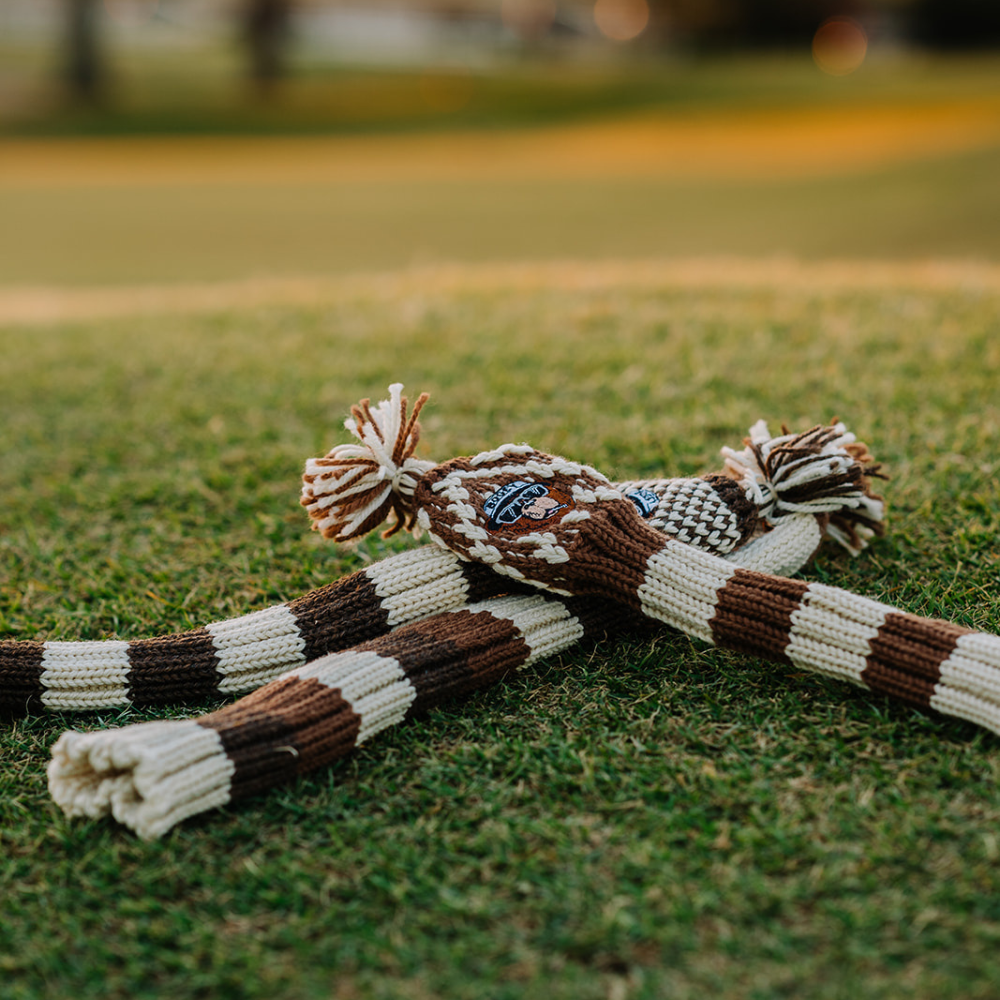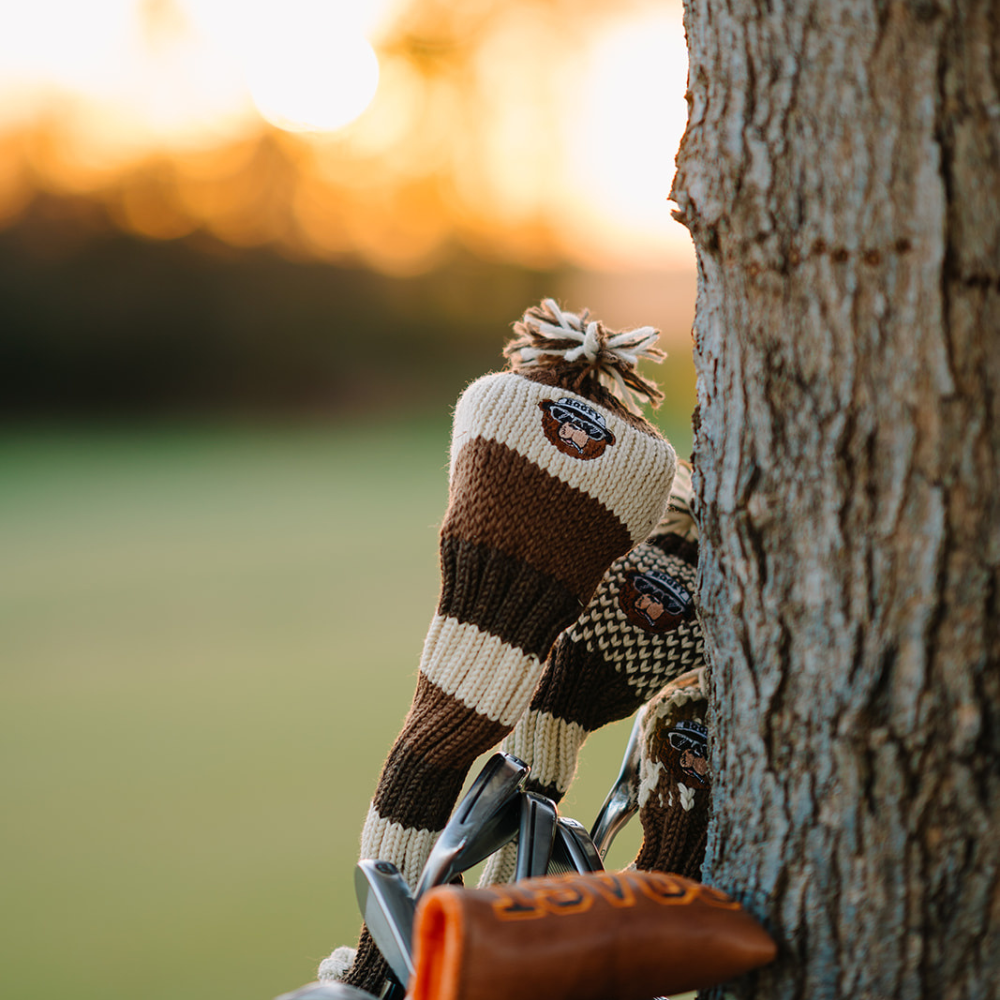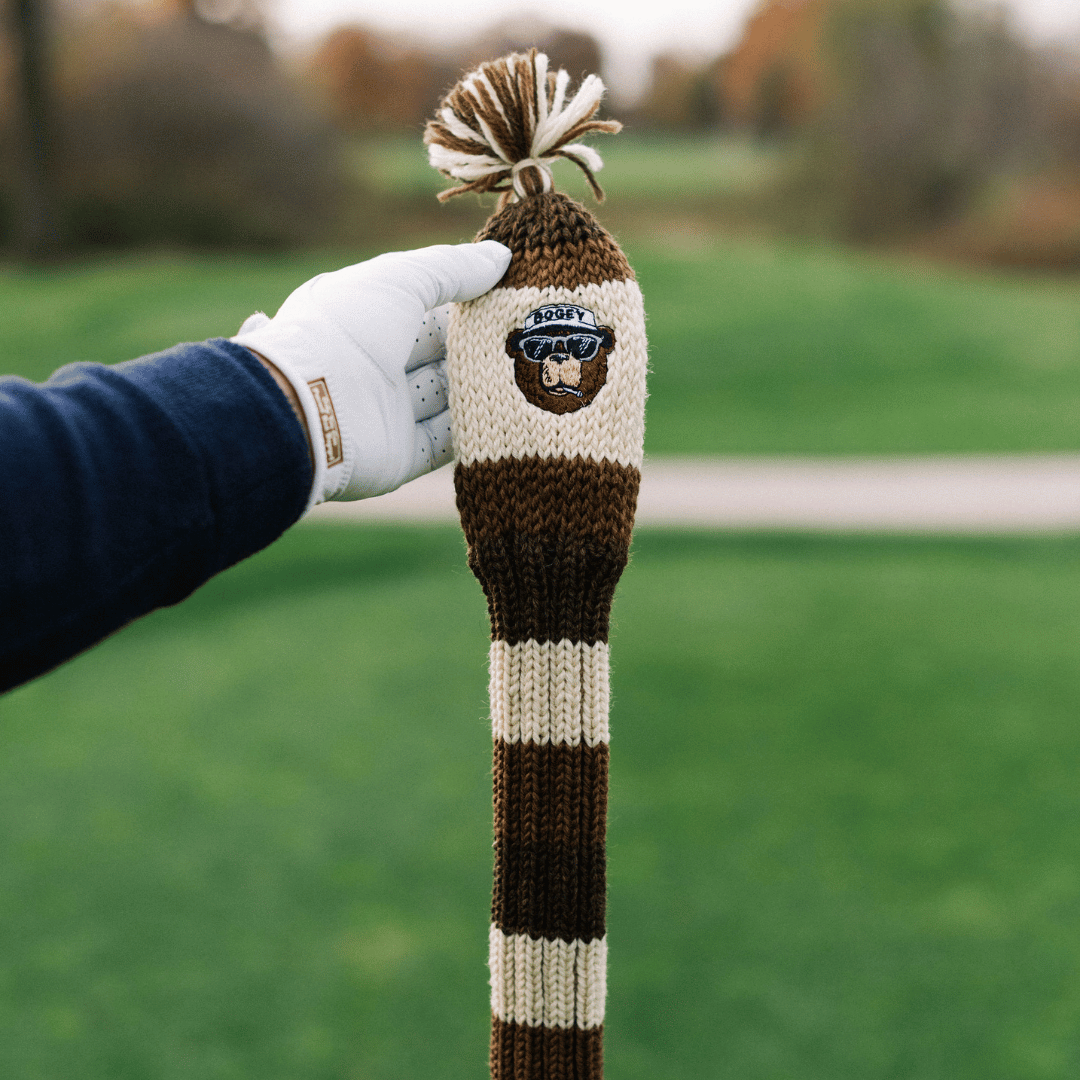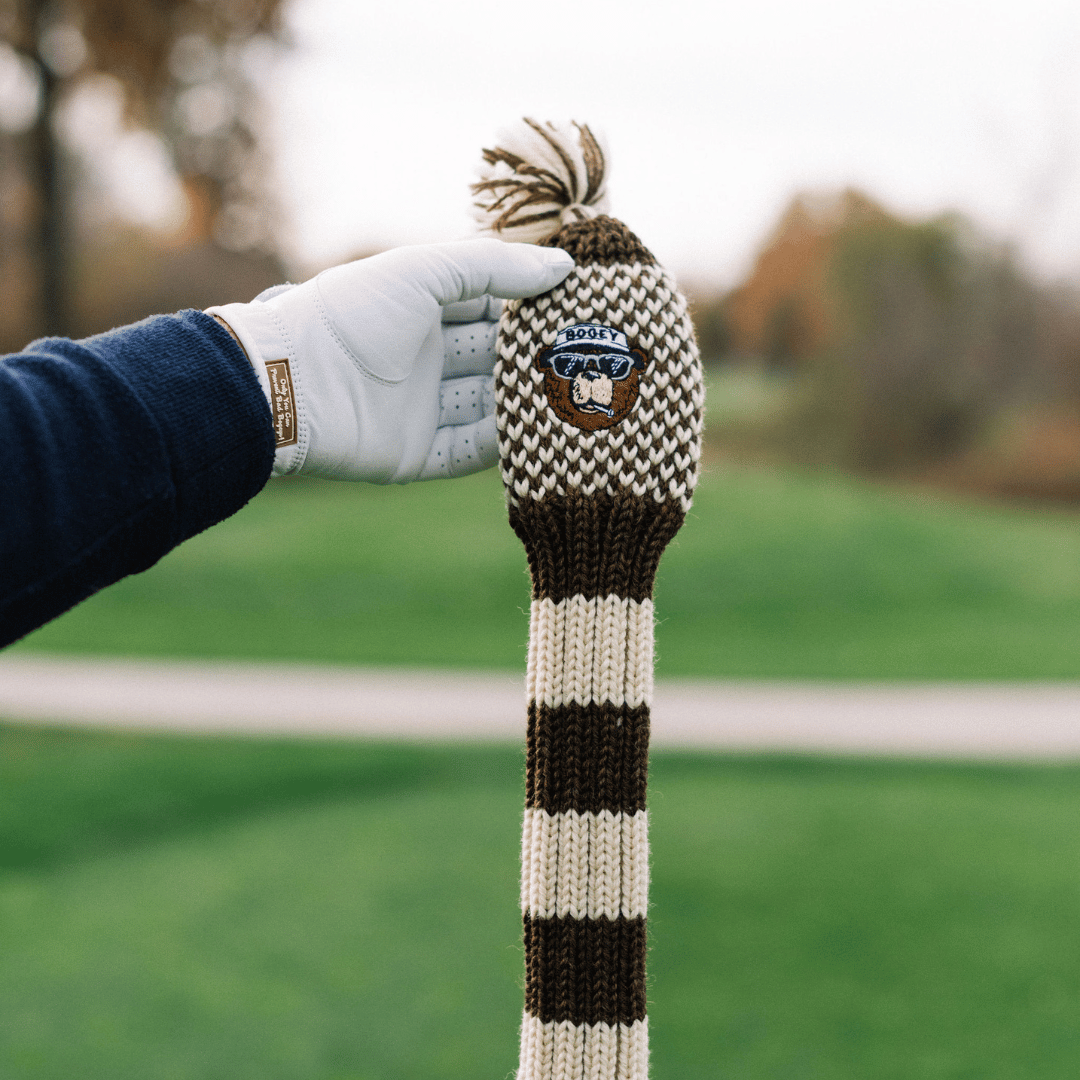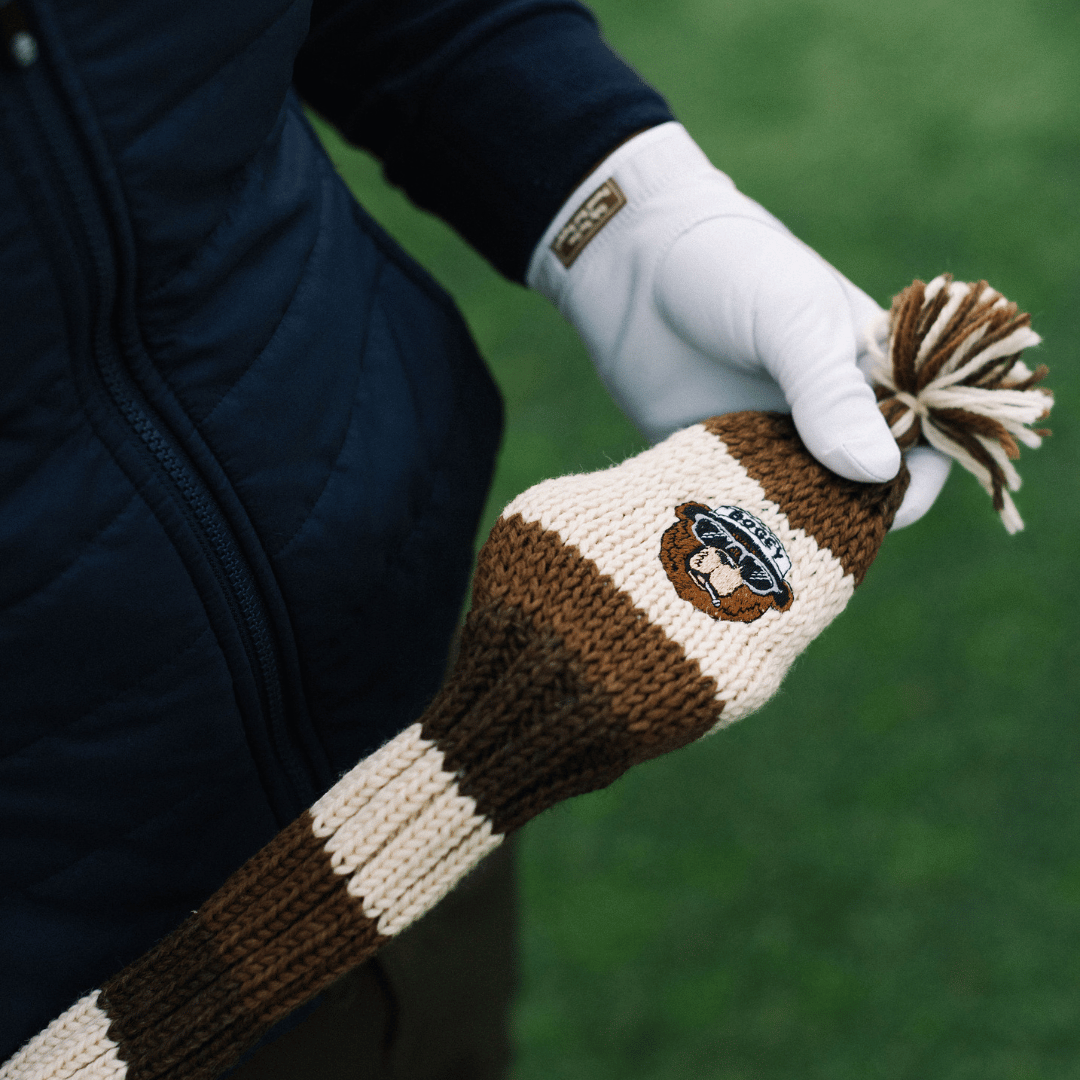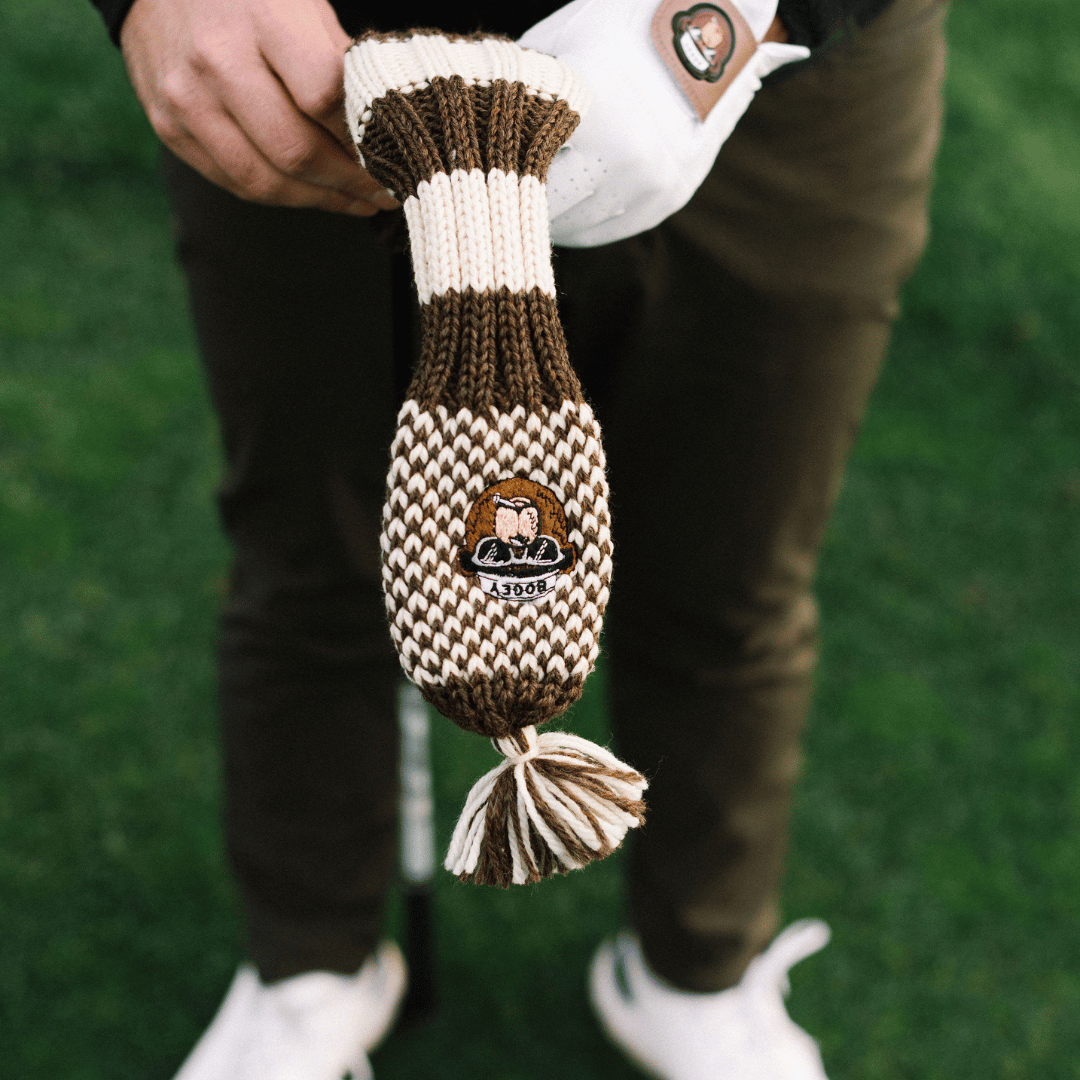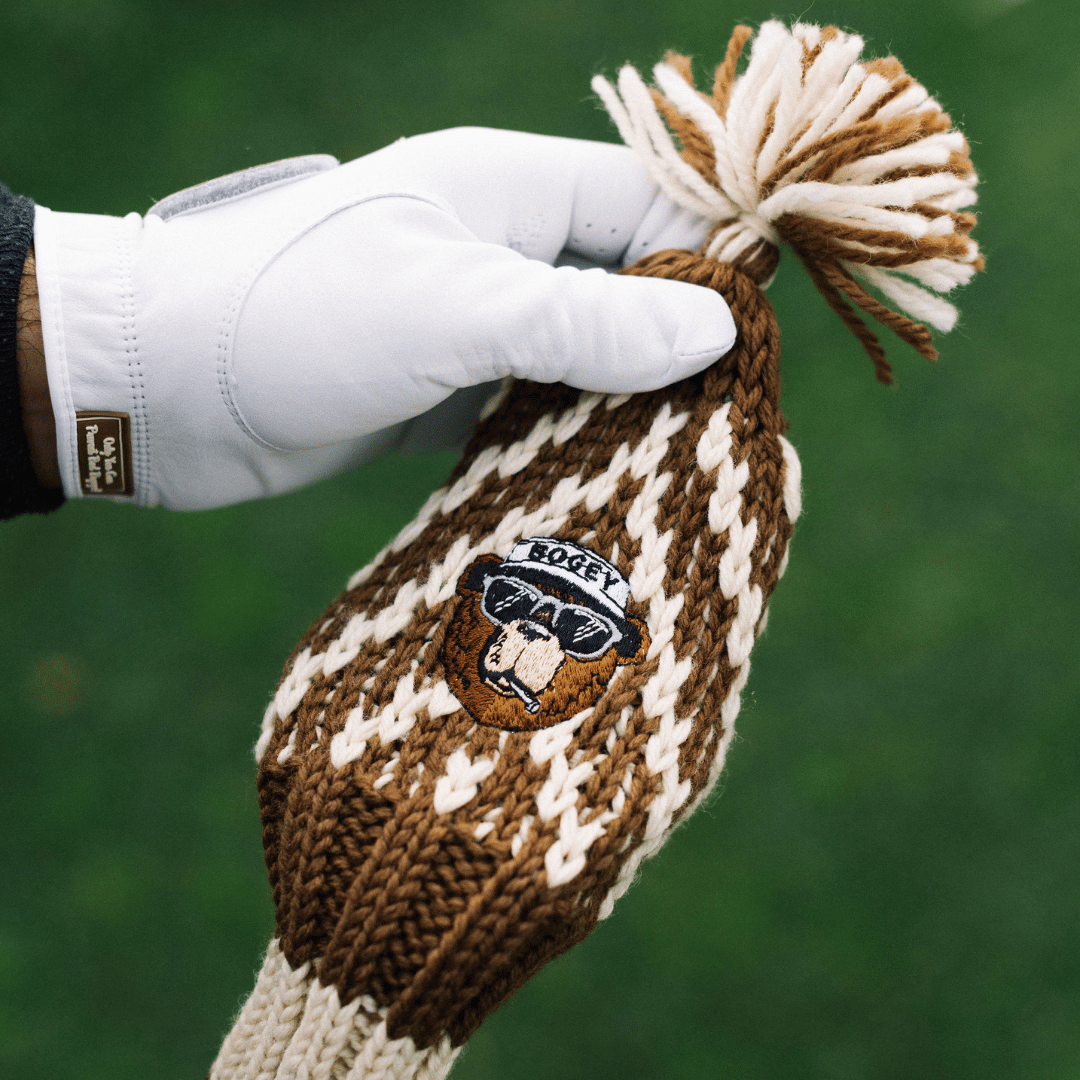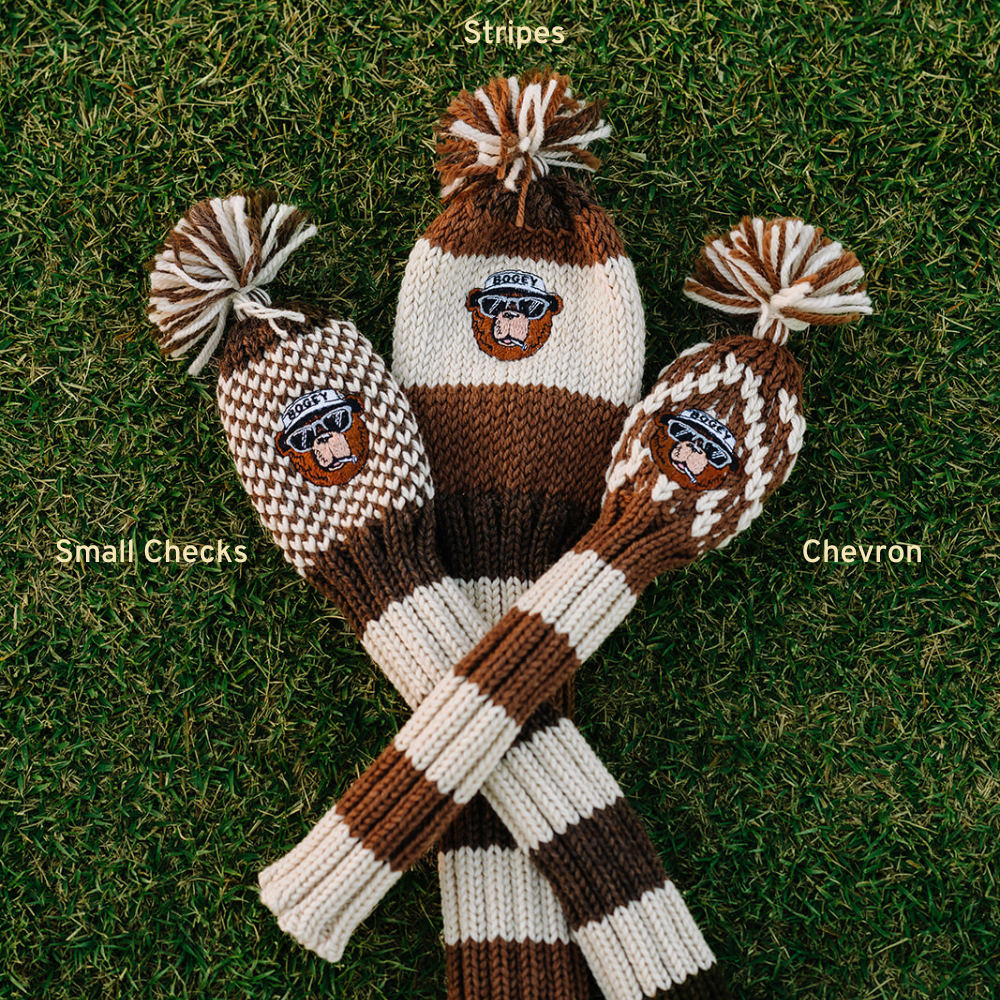 Bogey the Bear Knit Headcovers
Free Shipping Over $50. Free Returns & Exchanges.
---
Description
Core Features
Care Guide
Your new favorite Bogey the Bear headcovers. Made in the USA with 100% wool yarn.
In collaboration with Fore Ewe, these classic, handmade knit headcovers will give your bag of pop of style for years to come. Available in 3 styles to deck out the bag. Limited.

For every Bogey the Bear product we sell, we plant a tree in an area of need. 🌲 
Made with 100% wool yarn
Spun and double waxed to ensure that it knits smoothly
Luxurious feel with deep detail
High-quality & long-lasting 
Water-resistant
Handmade in the USA
Care for the headcovers is the same as for a treasured wool sweater! You may send them to the dry cleaners or hand wash the neck (sleeve) and head portion in room temperature water and Woolite. DO NOT submerge the top treatment.
Bogey the Bear Knit Headcovers
FAQ
Do These Headcovers Run True to Size?
Yes, all driver covers will fit all drivers, 3-woods fit all 3-woods, etc... Your cover will also naturally stretch a bit over time.
What's Your Return Policy?
Our standard exchange policy is 30-days from delivery. Having said this, if you aren't happy with the product even after 30 days has passed, please reach out and we'll make things right.
What's Your Exchange Policy?
We offer free exchanges (both ways) if the gloves don't fit or you're looking for a different style.
Will the knitted Wool Stretch?
The wool will stretch out to naturally conform to your club over time.
Free Shipping Over $50. Free Returns & Exchanges.
Free Shipping Over $50
We're a small shop, but we ship fast. Generally standard shipping orders will arrive in 5-7 business days (or more). We offer faster, upgraded shipping as well.
Need a Different Size? We Got You
We offer free exchanges if you're looking for a different size or style.
Hassle Free Returns
We offer a 30-days, no questions asked returns if you're not happy with your purchase. We stand behind our products and always want to make things right for our customers.
About us
Started in 2019
Started in 2019 with a mission to make the best golf gloves in the game. Something golfers would be proud to wear. Fast-forward to today, we're on a mission to create the best gear in golf that inspires golfers to adventure more, both on and off the course. 
Small Shop
We're a small, hard-working and dedicated team. We prep, pack and ship everything in-house. No outsourced customer service reps, 3PLs or anything else. We're here for you.
Huge Golfers
I've been swinging a club since the day I could walk. Okay, maybe not that young but close to it. Golf has always been a huge part of my life and I'm proud to be able to share my love of the game with others.
- Matt F.
Founder, North Coast
100% Premium Wool
Made with the finest wool yarn, for a luxurious feel and deep detail
Knitted by Hand
Stitched using the finest materials and craftsmanship to ensure longevity
Looks Good, Lasts Long
A staple in your bag for years to come.