Created to inspire others to travel more, adventure further, and have fun along the way- on and off the golf course. Finding hidden gems, showcasing cool adventures, great eats and playing great golf.
Suttons Bay, Michigan
Suttons Bay, Michigan. This is one of our favorite areas in the state of Michigan—and for good reason. It truly has it all. Great golf, solid food, wineries and breweries scattered throughout and one of the best lake spots you can find anywhere in the world. It's 30 minutes from Traverse City (gem of a town) and within an hour of Sleeping Bear Dunes and other endless adventures.
---
Overlooked and underrated. Opened in the late 90's, this gem sits just outside of Suttons Bay and runs parallel to, and through, a Cherry farm. We were lucky enough to play the course when the cherries were ripe for the picking—added bonus. Rolling hills, dramatic elevation changes, unique holes—this place has it all and is an absolute must play in the area. Check out the view of Sutton's Bay from the 15th tee box, it's pretty cool.
‍
---
Nestled between Sleeping Bear Dunes and Suttons Bay, Manitou Passage is hard to pass up. Cut mainly through the woods, this recently renovated design will take you through the dense forests of Northern Michigan (with terrific elevation) and spit you out back into the valley. Cool feature- there's an old ski lift that sits on property and adds a cool vibe to a few holes.
---
Don't sleep on this 9 hole'r. Northport is located in the tip of the Michigan 'Pinky'—and is 1000% North Coast approved. Great layout, cool holes, fun vibe. The perfect place for an evening 9 or a round with the family. Best hole? Toss up between #3 and #8—but we'll let you decide.
Traverse City Country Club
---
A truly hidden gem right in downtown Traverse City. TCCC features traditionally small greens that provide the defense of the course—bring your iron game. Fast greens and tight fairways are a staple. The course is private but getting on is not impossible. A quick call from your local PGA Pro could score you a time on the generally slower weekend days.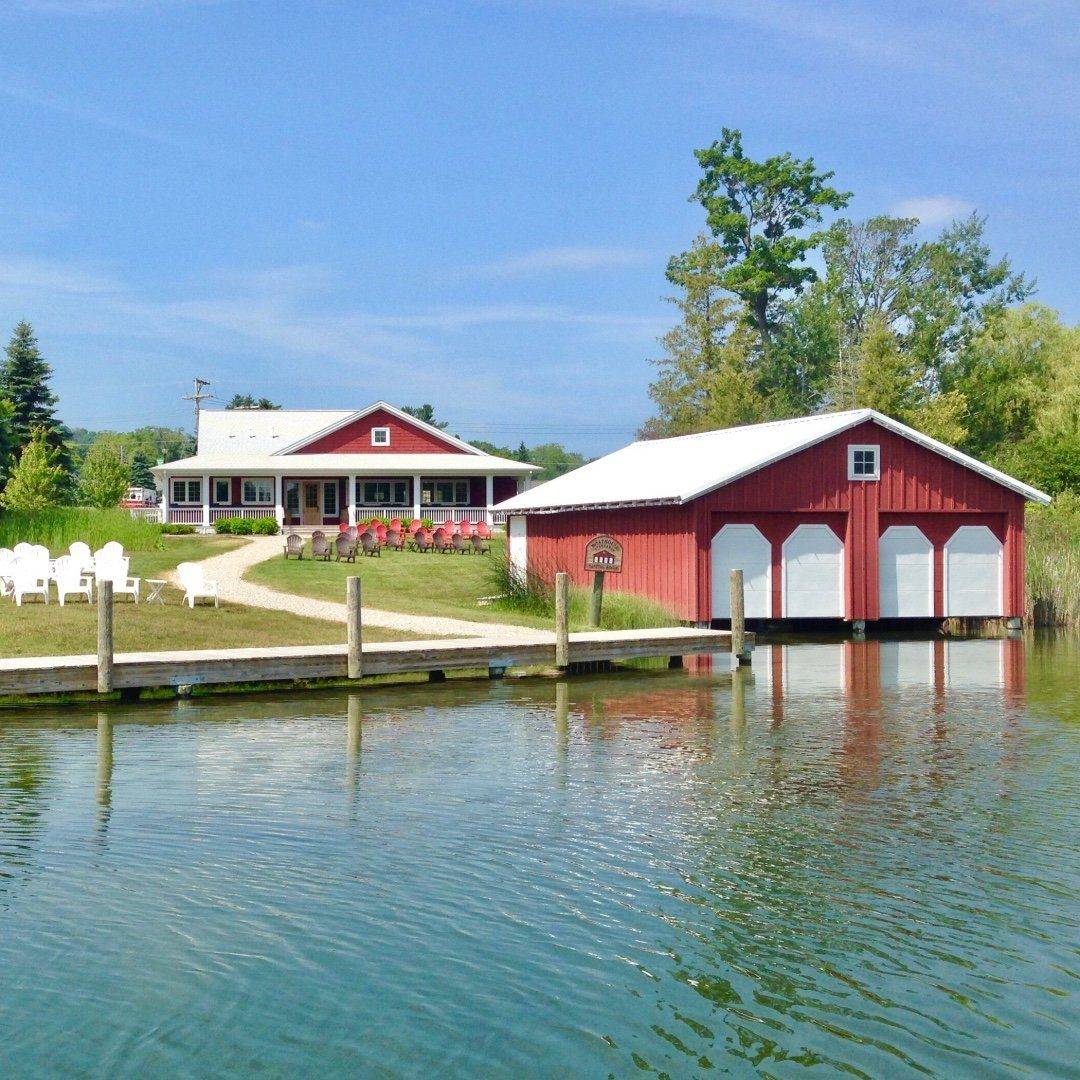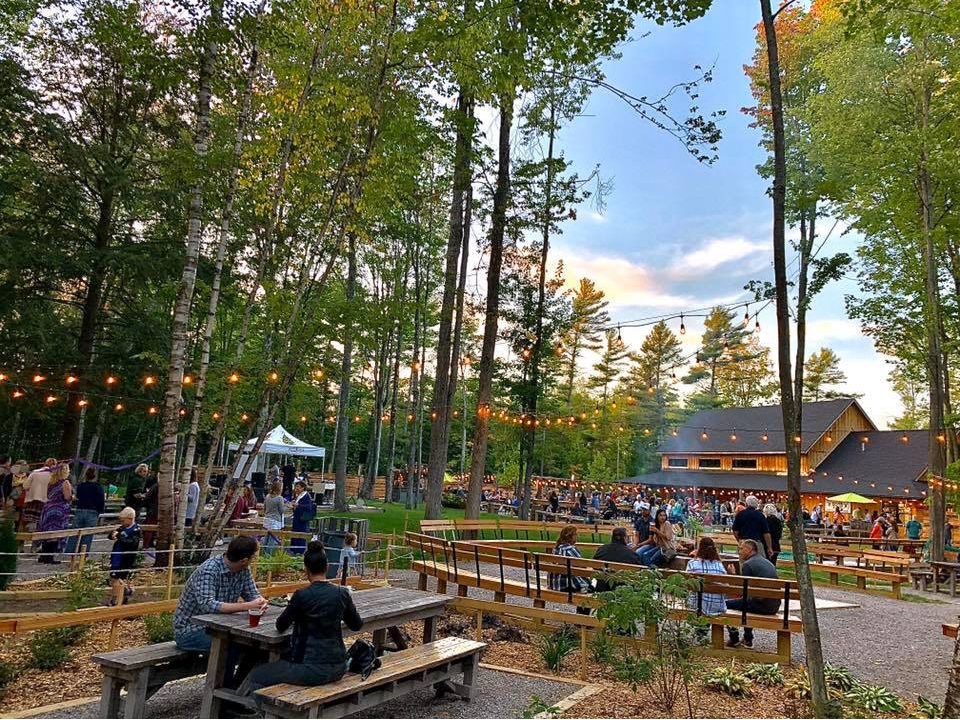 Great spot to look out over Suttons Bay and have a few drinks. It's also BYOF (Bring your own food), so grab some snacks and have a time.
---
45 North Vineyard & Winery
45 North not only has delicious wine and amazing views but also a 3-mile recreational trail you can walk, bike, or even ski through (when weather permits).
---
This vineyard is located on one of the highest altitudes in the area and sits on top of limestone, creating long growing seasons and some of the most unique wines around. The views of the rolling hills aren't bad either.
---
Few drinks and a show? How 'bout it. This winery has it all, good wine, a patio with a view, and live music. Stop by Willow Vineyard & Winery and have a glass on the patio while overlooking Grand Traverse Bay. Swing by on a Saturday so you don't miss out on the live music.
---
Roll your boat right up to the dock on Lake Leelanau. No boat, no problem-walk down to the water's edge for a few drinks. You have to stop by Boathouse Vineyards any Wednesday or Sunday in September for live music on the lawn, and of course a glass of wine… or five.
---
Roll your boat right up to the dock on Lake Leelanau. No boat, no problem-walk down to the water's edge for a few drinks. You have to stop by Boathouse Vineyards any Wednesday or Sunday in September for live music on the lawn, and of course a glass of wine… or five.
---
This old school winery has been family owned and farmed since 1980. They have managed to keep the nostalgic touch while still keeping a modern twist. Oh, and not to mention it's on the Lake Michigan coastline.
---
Black Star Farms Suttons Bay
Black Star Farms has a hard to beat tasting room as well as a view of the vineyards that overlook what seems to be endless trees. With such a large selection of wine sometimes it gets hard to pick… but you're in Michigan you at least have to try the cherry wine, right?
---
Northern Latitudes Distillery
This distillery means business. They sell their own liquor drinks that you are welcome to take to their outdoor seating area, or you can order a cocktail to go and have a delicious drink from wherever you see fit (maybe the course, who knows).
---
With multiple beers, ciders, and a few wines on tap, mixed with the up-north cabin vibe, you'll never want to leave.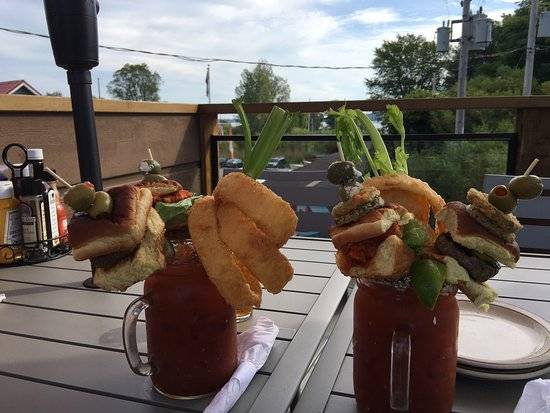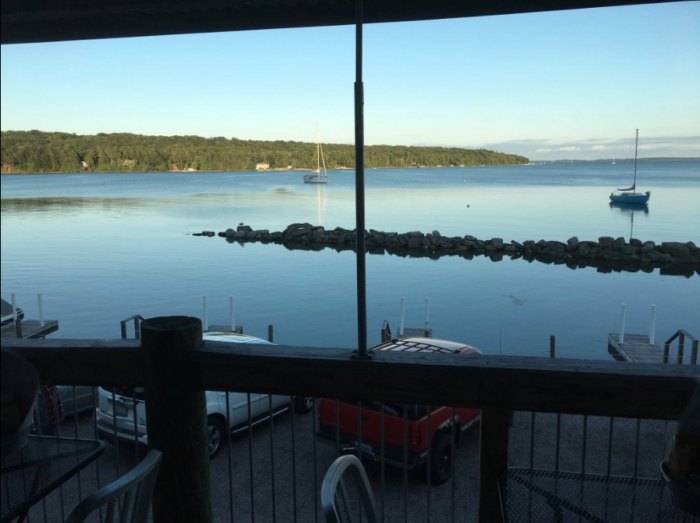 Martha's offers delicious central European inspired cuisine. Get a table on the patio and enjoy a dinner and some drinks. P.S. Their seafood is on par (get it?).
---
North Country Grill and Pub
With a large arrangement of outdoor seating, wide variety of amazing food, and local beers and wines, how could you not stop at North Country Grill and Pub. The perfect dinner spot for a group or family.
---
Get a table on the rooftop and enjoy a meal with a view. By the way, don't skip out on the appetizers and if it's the right time, grab a Bloody Mary as well… trust us on this one.
---
Breakfast, lunch and dinner. They have it all, including 22 beers on tap, you can't go wrong.
---
Need a quick but delicious bite to eat? Bay Burrito Co is your place to go. This high-end Mexican food spot is the perfect option. Tacos, burritos, bowls and more— with all the toppings you could ever want.
---
With waterfront dining and fresh caught fish and other seafood (lakefood?), you can't miss. Check out the Bloody Mary, it's something special.
---
If the tables right on Grand Traverse Bay aren't enough, the atmosphere will sell you. This upbeat restaurant is also the perfect spot for a night out, while kitchen closes around 9 the bar will stay open late.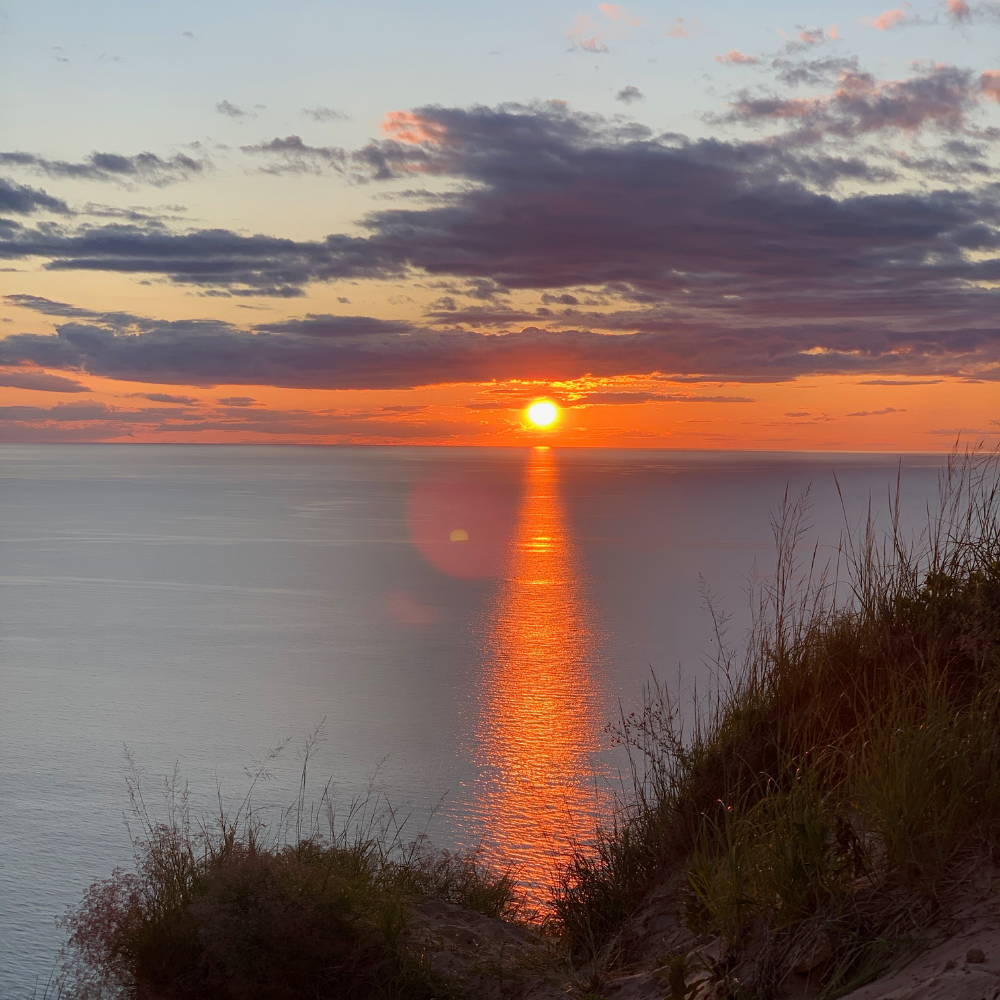 45th Parallel Café is known for their omelets, but there is no wrong choice here. The perfect spot to start your day or grab before a morning round.
---
Great food, friendly staff and just a short walk from the beach.
---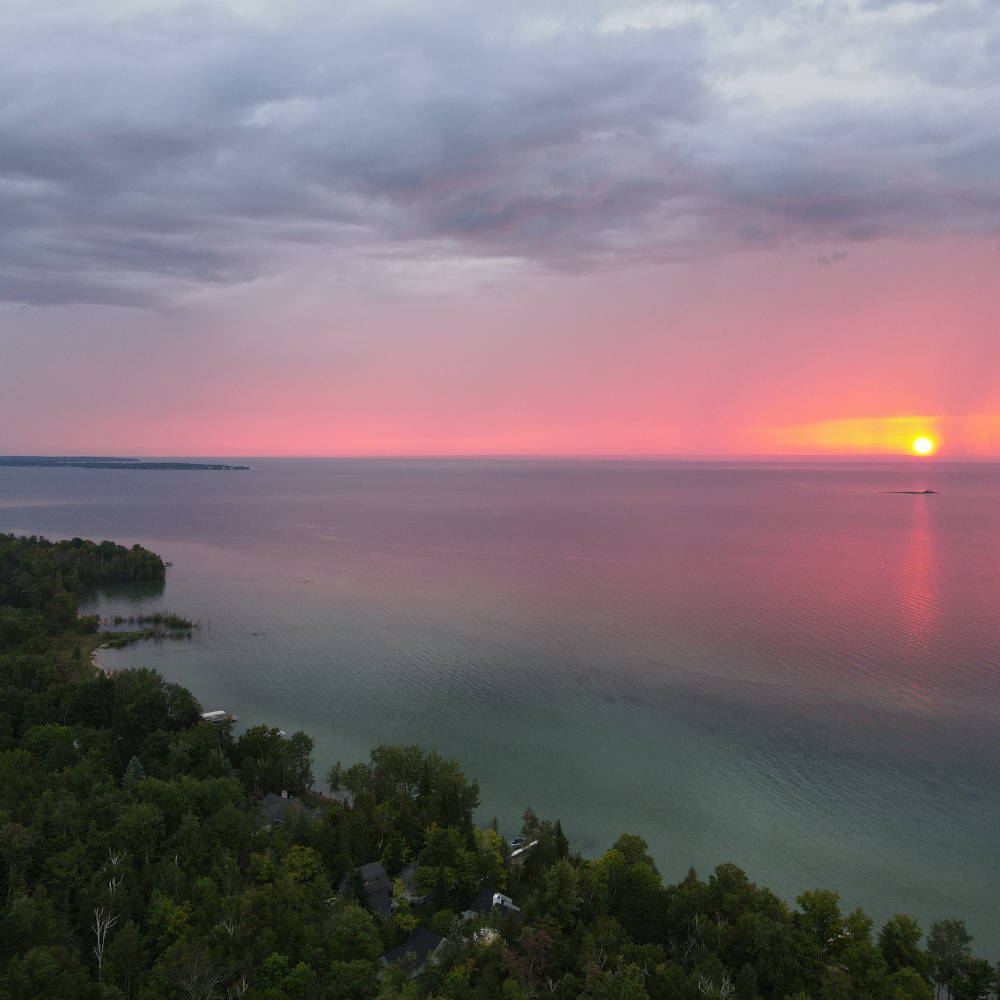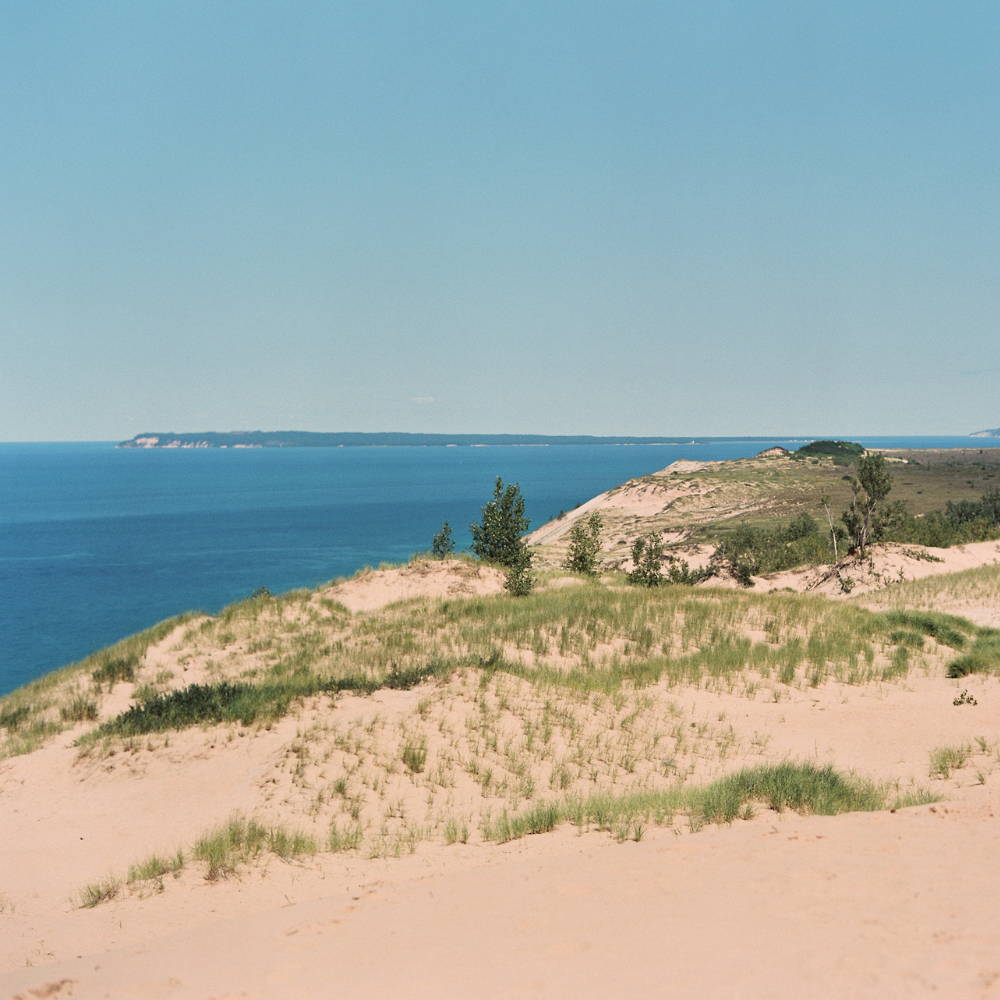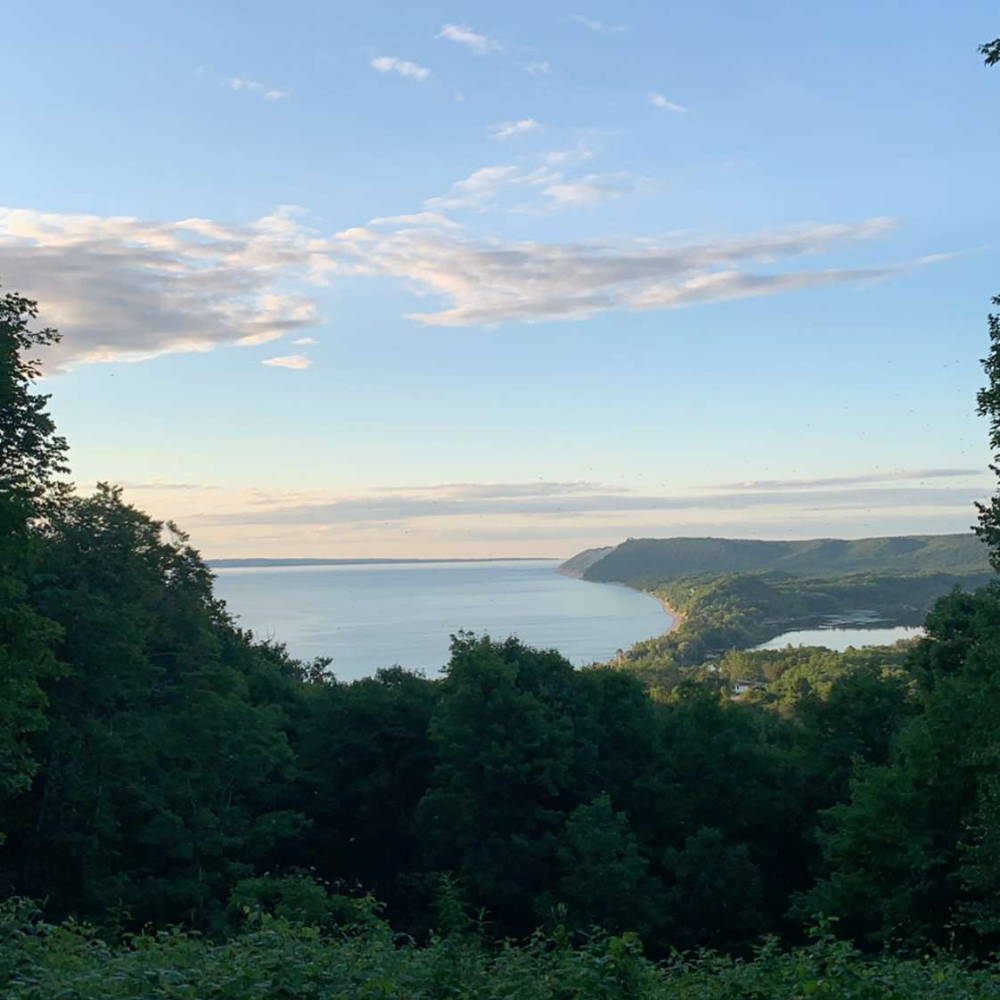 Suttons Bay & Grand Traverse Bay
ou're right on (or very close to) Suttons Bay/ Grand Traverse Bay. Spend the day out on the water if the weather's good. Rent some kayaks, hit the beach, jump in the lake, whatever you're feeling. The wineries are endless up here and you could make an entire day out of it—it's hard to pass up especially when your golf game is nowhere to be found.
---
Take a trip to Sleeping Bear Dunes. Within an hour drive and one of the most beautiful spots in America. If you're going, try the Empire Trail, Pierce Stocking Scenic drive and the Dune Climb (not easy). Finish at the Empire Trail with the sunsetting—thank us later.
---
Feeling wild? Take a day trip to the Manitou islands (ferry closed this year). This place is basically untouched by humans. Spend the day hiking around the island.
---
Leland, An Old Fishing Town
Leland is only about 20 minutes away and an absolutely iconic fishing town. Stop by the Village Cheese Shanty shop before you head out.
---
Finally, take a trip to the tip of the peninsula and visit Northport State Park—you are literally surrounded by water.
There's way too much to do in 2 days. So, this is at least a 3-day trip. Head up Thursday afternoon. Drop the bags off and head to Northport Creek- play a fun evening 9, it's the perfect start to the trip. Grab a few drinks and dinner at Knot Just a Bar or Boone's Prime Time Pub and relax for the night.
Get up early and head straight Manitou Passage. Depending on where you stay, it should be within 30 minutes. Grab lunch in Glen Arbor at Cherry Republic Brewing Co. Here's your choice: rent kayaks and hit the Crystal River Outfitters and paddle the Crystal River. Or head to the dunes and have yourself a day. There's a ton of trails and hikes but our three favorites are: The Dunes Climb, Empire Trail, Pierce Stocking Drive. If you can, finish at Empire Trail with the sun coming down—one of the coolest sunsets you will see in your entire life. Grab a late-night bite to eat at Art's Tavern on the way back.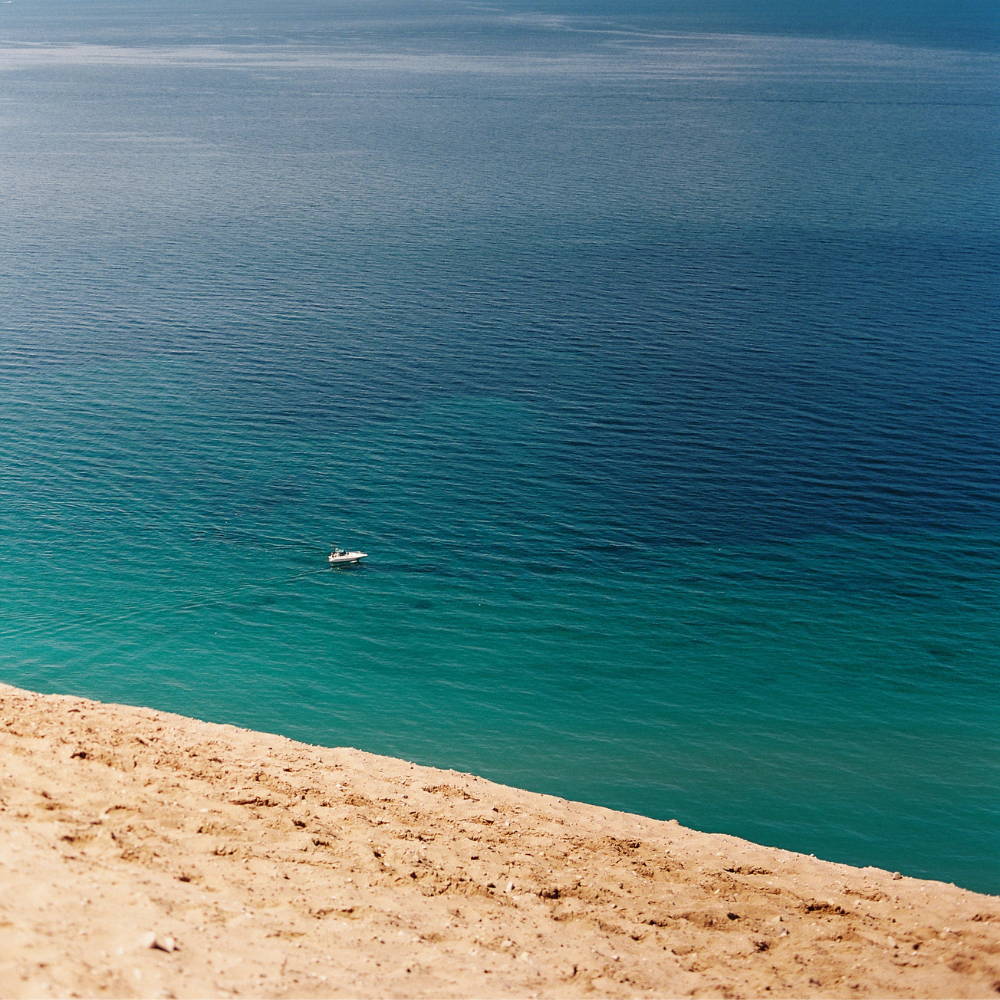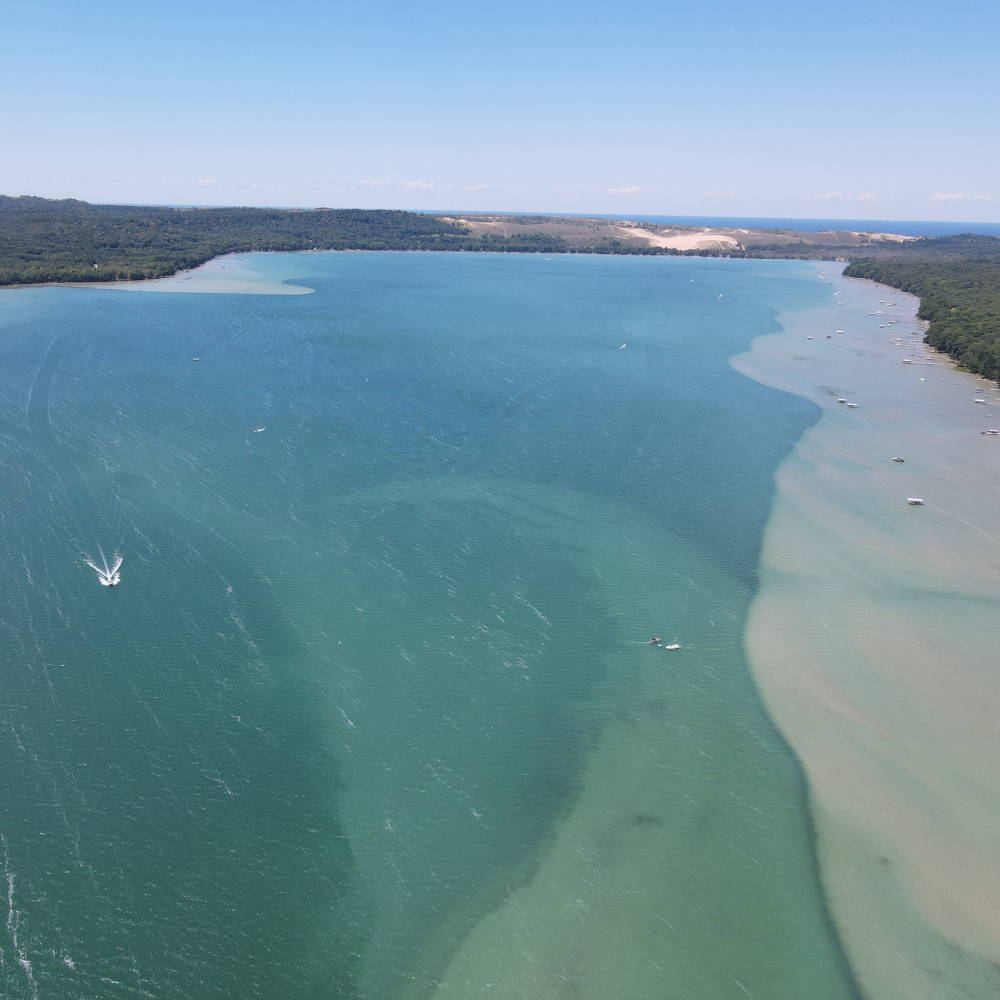 Glen Lake, just off of Sleeping Bear Dunes.
Buckle up, it's going to be another long day. Get up early and head straight to Bahle Farms. Pump yourself up for this one. After you finish 18, head over to Leland and enjoy the early afternoon. Grab lunch at The Cove and venture around this cool little fishing town for a few hours. Hit up the Village Cheese Shanty shop before you leave. After that, head to 1 of what seems like 100's of wineries in the area. Grab a DD and make your rounds. If you're going with breweries the must hits are Sutton's Bay Cider and Hop Lot. For wine, pick a few: 45 North Vineyard & Winery, Blustone Vineyards, Willow Vineyard & Winery, Boathouse Vineyards, Good Harbor Vineyards and Black Star Farms Suttons Bay. Cool off that buzz by grabbing dinner at Corky's Winebar and Beach Bistro. What. A. Day.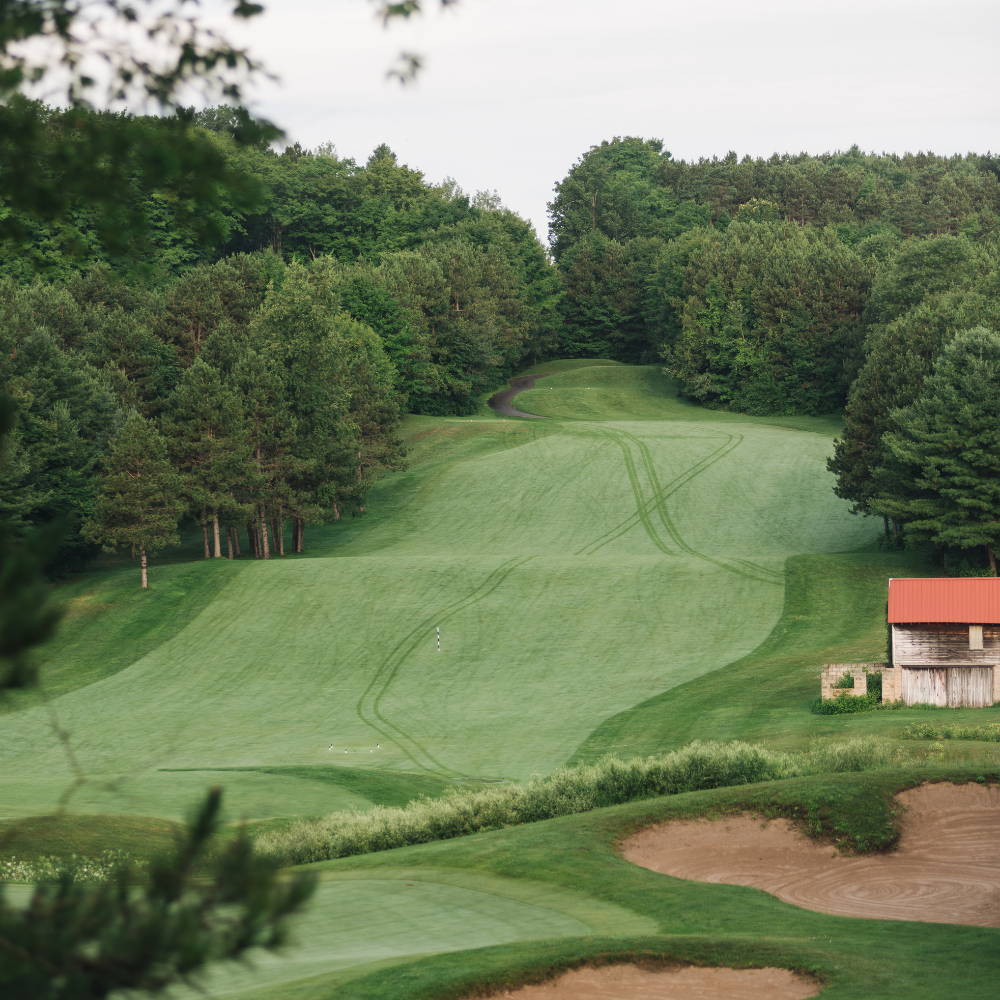 Sunday
Sundays Up North we're made for relaxin'. Grab a good breakfast at 45th Parallel Café and spend the morning walking around the town of Suttons Bay. Hit the beach and rent some kayaks if you're feeling up to it. Another option is to take a drive up to Northport State Park, it's pretty damn cool. If you have time, snag a tee time at Traverse City Country Club and get your final 18 in.
This will be one of the coolest trips you'll take.
‍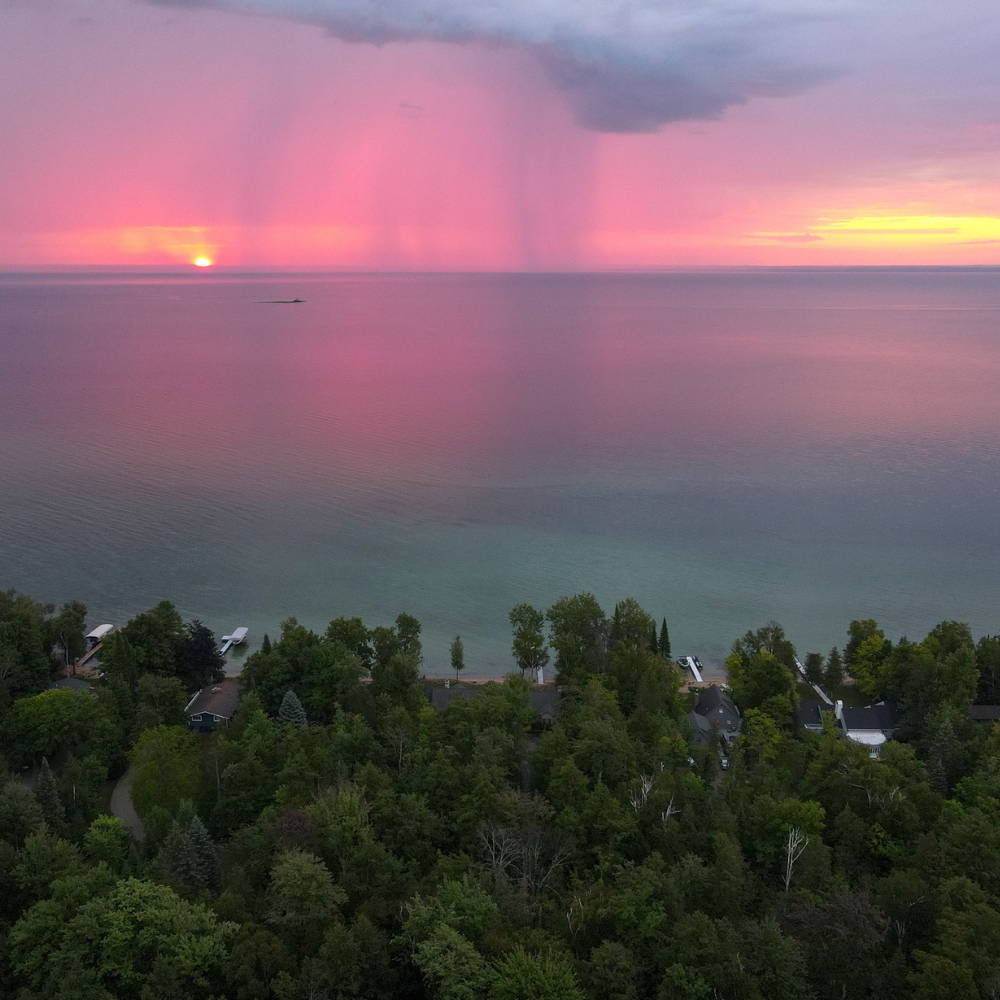 Northport Sunrise. Make it a priority to catch a sunrise or two.